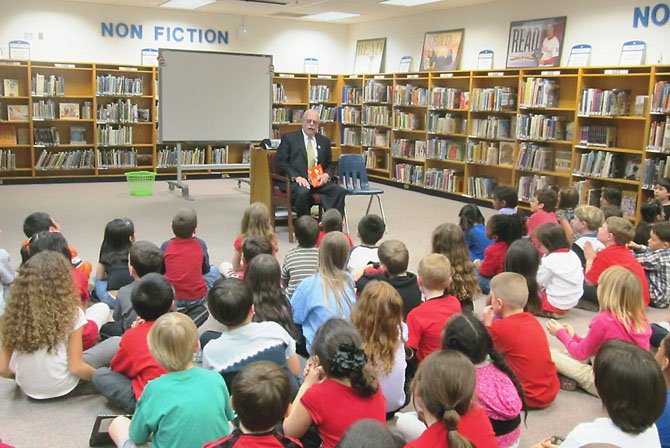 Q: What headline, or headlines, would you love to see for Northern Virginia in the coming year?
A: There are many; here are a few:
Northern Virginia Economy Continues to Grow and Produce Well-Paying Jobs

Phase One of Dulles Rail Opens to Reston; Phase Two Construction on Time and on Budget

U.S. DOT Approves Congressional Delegation Request for TIFIA Funding to Reduce Burden on Dulles Toll Road Users

Bipartisan Coalition in Congress Approves Legislation to Resolve Fiscal Cliff

Virginia General Assembly Appropriates New Money for Northern Virginia Transportation Improvements and Infrastructure Repairs

McAuliffe Elected Virginia Governor

Northern Virginia Remains a Magnet for Fortune 500 Companies Relocating to DC Region

FBI Brings New HQ to Northern Virginia

Nationals, Red Sox Face off in World Series!
Q: What are—or should be—top priorities for our state legislators this session?
A:
Transportation—"The General Assembly needs to take positive actions to provide new funding for needed transportation and transit improvements, particularly congestion in Northern Virginia and Hampton Roads. These two regions of the commonwealth are Virginia's economic engines. If we want to continue to grow Northern Virginia's economy, we must ensure that our transportation infrastructure is capable of meeting the needs of our citizens and our businesses. For too long, the General Assembly has ignored the pleas of Northern Virginian citizens and elected officials to provide adequate transportation funding."

Transit Funding—"The Commonwealth of Virginia has never paid its fair share of costs for the Metro system or construction of the new Silver Line to Dulles. Most of the funding for these costs attributable to Virginia actually comes from Northern Virginia taxpayers and businesses. The Virginia General Assembly needs to provide additional funding for the region's transit needs and recognize such funding benefits the economy of the entire commonwealth."

Education—"Providing adequate resources to protect the quality of Northern Virginia's public schools and schools across the commonwealth. The General Assembly should not rob education funds to pay for other government functions."

Voting Improvements—"The November election showed that there were a number of problems at polling places in Northern Virginia and other locations in the commonwealth. Long lines, old malfunctioning machines, absentee ballots arriving late, were among the issues voters faced this year. The General Assembly should consider appropriate voting reforms, including no-excuse early voting. Legislation I have introduced in Congress with Senator Mark Warner, entitled the FAST Voting Act, provides a good model for the state to follow as it works to enhance voting processes and procedures."

Protecting Women's Rights and Health—"The Virginia General Assembly's actions restricting women's health services, including legislation mandating invasive ultrasound exams and restricting health clinics, were an assault on women's rights. Hopefully, the withering national criticism of these anti-women laws will convince the General Assembly to protect, rather than degrade, the rights of Virginia women."
Q: What do you consider to be the number one issue affecting our community?
A: "Protecting and growing Northern Virginia's economy and our vibrant public-private partnership with the federal government remains my number one priority for Northern Virginia. As a member of the House Oversight and Government Reform Committee that oversees government contracting, federal workers, information technology, and other related areas, I continue to work in a bipartisan manner to maintain the balance between government functions performed by our dedicated federal workforce and those best served by the private sector. In addition, addressing our region's transportation needs and preserving a strong educational system are important factors in maintaining our economic growth and quality of life."
Q: Have you driven on the Express Lanes?
A: "I have used the Express Lanes several times since they opened and found that they performed as promised. Despite heavy traffic on the Beltway, I was able to use the toll lanes to reach my meetings on time. I have received similar feedback from many constituents who appreciate another option to congestion."
Q: New Year's resolutions?
A:
To work with my colleagues from both parties to protect the interests and the needs of Northern Virginia in the U.S. House of Representatives.

To continue to seek responsible, balanced, and bipartisan solutions to grow our local and national economy and reduce the deficit.

To continue to use every opportunity to meet and confer with constituents and organizations across Virginia's 11th Congressional District and to use my office to help them deal with issues and problems they face with federal agencies and programs.

To ensure that our federal government maintains the sacred trust we've made to our active service members, our veterans, and our military families to provide them with the services they've earned through their sacrifice.