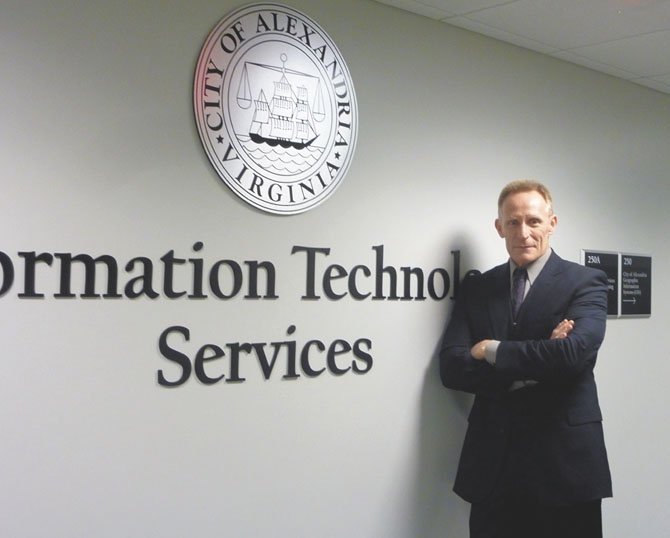 It appeared without warning, a deadly computer virus that was spreading quickly just as the 2011 Easter holiday weekend was approaching. Named Qakbot, it had already infiltrated the data of state and local agencies across the nation and was aggressively working its way through the City of Alexandria's IT system when it was discovered.
"Moving to the cloud is what saved us from Qakbot," said Chief Information Officer Tom Trobridge, who only a few months earlier had led the city's data migration to the Microsoft Office 365 cloud servers. "It was a special effort by everyone involved but by that Tuesday we had isolated it and killed it with no loss of productivity and no damage to files."
"It's really not about the technology at all. It's all about improving the city's ability to do business."

Tom Trobridge, City of Alexandria CIO
The vision and work of Trobridge and his team were a key component of the 2011 Digital Cities Award presented to the city Jan. 24 by the Center for Digital Government.
"We finished in a tie for 3rd place," Trobridge said. "The city has finished in the top six every year since 2005, but this is the city's best finish since 2007 when we also finished in a tie for 3rd."
Trobridge is no stranger to crisis IT management. A graduate of Virginia Military Institute, the 25-year Army veteran and now retired colonel has extensive experience providing IT and electronic communications support to the nation's Special Operations forces and was stationed at the Pentagon when the 9/11 attacks occurred.
"The communications teams performed spectacularly on 9/11 in maintaining communications after the attack on the Pentagon," said Admiral Edmund Giambastiani (ret.), the former vice chairman of the Joint Chiefs of Staff. "Colonel Trobridge exemplified the many within the IT and communication commands in the Pentagon that were so effective in maintaining connectivity."
Now in his fifth year with the city, Trobridge and his team led Alexandria to become the first jurisdiction in Virginia to migrate to the Microsoft cloud.
"The migration to Microsoft's cloud has fundamentally changed the IT service delivery model for the city," said Trobridge, who researched alternatives, including Google, before making the decision to go with Microsoft. "As a result of our move to the cloud, we're saving money, working more efficiently and enabling telecommuting while reducing our carbon footprint and improving our security and disaster recovery posture."
Other jurisdictions, including New York City, have followed Alexandria into the Microsoft cloud but as Trobridge likes to remind people, "We were there first."
Photo Gallery
Digital Cities Award.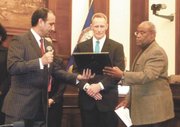 Click Photo for Flash
"Microsoft is trying to transform their company from the premier software company to an IT service company," Trobridge said. "The lessons Microsoft learned from Alexandria helped them develop the processes necessary to migrate their major commercial accounts to Office 365. We were in essence their crash test dummies and helped them identify their own organizational shortfalls."
Trobridge credits his staff, led by Deputy Director Shelly Ryan, with having the vision and dedication to implement the sweeping IT changes that have taken place.
"I'm very proud of the people in my department," Trobridge said. "They are remarkable. Since 2008, my department has been cut from 60 to 40 people and we're doing so much more now than we ever did. The residents of Alexandria have no idea how hard they work or what value they get from so few."
According to Trobridge, 2012 is expected to be another transformational year for the city's IT operations.
"In the next 18 months, the ERP [enterprise resource planning] system is going to be the most important thing we do, but it won't be the only important thing we do," Trobridge said. "Implementing the new CAD [computer aided dispatch] will be huge and we have to operationalize a collaborative environment across the network."
Alexandria has been collaborating with Arlington and Fairfax counties to implement CAD, a multi-agency, multi-jurisdiction mutual aid response system.
"Tom and his department also consolidated the city's own emergency dispatch services," said Joanne Munroe, director of the Department of Emergency Communications. "This was a much-needed improvement that upgraded the fire, police and EMS systems to better serve the needs of the community."
While Trobridge and his department do not interact directly with city residents, his future vision will have an impact on individual citizens.
"We have some opportunities to achieve greater efficiencies in the way we organize and deliver IT services to the city," Trobridge said. "I'm looking forward to putting more city services online and accessible through mobile applications so residents can use them at their convenience. In the end, it's really not about the technology at all. It's all about improving the city's ability to do business."