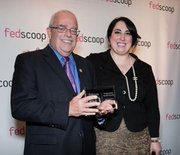 Congressman Gerry Connolly was named "Tech Champion of the Year" Thursday night at an awards ceremony featuring leaders from the federal and private sector information technology community.
Connolly (D-11) was the sole recipient of Fedscoop's Tech Champion award. The award recognized Connolly "as a leader whose passion for tech made us all think out of the box." Connolly and winners of the Fedscoop 50 awards were selected by a voting process that involved members of the public and private sector IT community and the general public.
As Congressman for Virginia's 11th District, Connolly represents the heart of the technology community on the East Coast. He represents tens of thousands of federal IT contracting employees and federal workers who live in the district.
As a senior member of the House Oversight and Government Reform Committee and ranking member of the Subcommittee on Government Operations, Connolly has been a leading voice on IT issues in Congress since taking office in 2009. His background working for two IT companies and his tenure as Chairman of the Fairfax County Board of Supervisors gave Connolly a unique understanding of federal IT issues which has helped him drive legislation in Congress on the issues impacting IT inside and outside the federal government.
This year, Connolly and House Oversight Committee Chairman Darrell Issa (R-CA) coauthored a major federal IT reform bill – the Federal IT Acquisition Reform Act (FITARA) – which would overhaul federal IT procurement, increase transparency, efficiency, and management of federal IT, and save taxpayer dollars. The legislation has already passed the U.S. House of Representatives and is pending in the Senate as part of the National Defense Authorization Act.
"I am honored to be named Tech Champion of the Year and I will continue to work to enhance and reform the federal IT system working with the many dedicated individuals in the federal government and in our thriving private sector tech community," Connolly said.