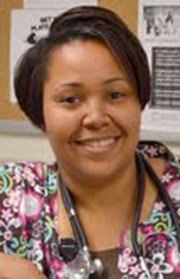 According to the American Heart Association, 70 percent of Americans either do not know how to perform CPR or their training is outdated. For this reason, Antonisha "Nisi" Bennett is passionate about training moms and other caregivers in lifesaving skills. She lived in New York during 9/11 and remembers how helpless many people felt as a result of the attacks. "People were just standing there and didn't know what to do," she recalls.
That tragedy, coupled with the impact of Hurricane Katrina and other natural disasters in this country, inspired her to make it her mission to teach others about emergency preparedness. "It takes EMS at least five minutes to respond [to a call]," she notes. The response time can be even longer if the emergency occurs at a difficult-to-pinpoint location, like a park or shopping mall.
Currently a resident of Woodbridge in Prince William County, Bennett is the mother of five children ranging in age from 1 to 17 and works as a Licensed Practical Nurse. In addition, she runs All Heart Training, a business that personalizes lifesaving training sessions to meet the needs of families, groups, or schools.
She believes it is crucial that community members educate themselves so they'll be better prepared in all situations. AHA's website highlights a startling statistic: about 92 percent of sudden cardiac arrest victims die before reaching the hospital. Bystanders with CPR skills quickly become lifesaving heroes when they intervene to help collapsed and unresponsive victims.


ON JUNE 6 at 7 p.m., Bennett will conduct a 10-minute presentation on lifesaving skills at Fairfax Corner. Her demonstration, set to the BeeGees' popular tune, "Staying Alive", will include a discussion of what it means to have "emergency eyes," or an awareness of where emergency equipment is located in public places. She'll ask participants to note where the AED (automated external defibrillator) and first aid kits are the next time they head to the mall, for example.
Her presentation will follow a Little Tots concert series performance, by Kidsinger Jim, at 6 p.m., ensuring there will be many families on hand to hear her message. She'll also be available afterwards, with practice dummies on display, to answer questions.
She hopes she will encourage participants to give CPR "a second look." Bennett notes that there is fear associated with performing CPR and her goal is to present this and other emergency techniques in a manner that is relaxed and memorable. She emphasizes fun when teaching these skills to children as well. She's made sure her own children are certified in CPR and teaches them first aid basics. She makes "emergency eyes" a game whenever they go out as a family, to see who can spot equipment first.
Bennett is a certified AHA CPR instructor, member of National Preparedness Coalition, and a registered MAT (Medical Administration Training) trainer through the Virginia Department of Social Services. "My desire is to empower mothers, which stems from the pure fact that mothers are life managers," she says. She hopes to share her knowledge so that mothers, other caretakers, and members of the community are ready for whatever life throws at them.
"I'm not an extreme survivalist," she stresses. But she does encourage families to build emergency kits for their homes. If the task seems overwhelming, she recommends breaking it down into smaller steps. "Go buy a box," she says. "The next time you go shopping, get water. Every time you go grocery shopping, find something to go in your kit."
The week of May 25th is Hurricane Preparedness Week, and Virginians can obtain many emergency items, like batteries and flashlights, tax-free. Bennett says this is a great time to stock up on supplies for an emergency kit. "Your first mission is to take care of your own house," she says. "If you get your house in order, you can help a neighbor [in an emergency]."
A volunteer with the Medical Reserves Corp and Manassas CERT (Community Emergency Response Team), Bennett wants others to be better prepared for emergencies for selfish reasons, she notes with a chuckle. With her children involved in sports, she'd like the reassurance that the adults who are supervising them can handle any situation.
Aside from learning lifesaving skills and keeping a well-stocked emergency kit at home, Bennett urges families to become more knowledgeable about their communities. Volunteer at the local fire department. Learn the school's emergency evacuation plan as well as the one at work. "It's a lifestyle change," she describes. "The more prepared I am, the more I can enjoy my time with my family."


FOR MORE INFORMATION about CPR, first aid, and other lifesaving skills, visit http://www.allheartcprtraining.com/ or http://www.heart.org/HEARTORG/.