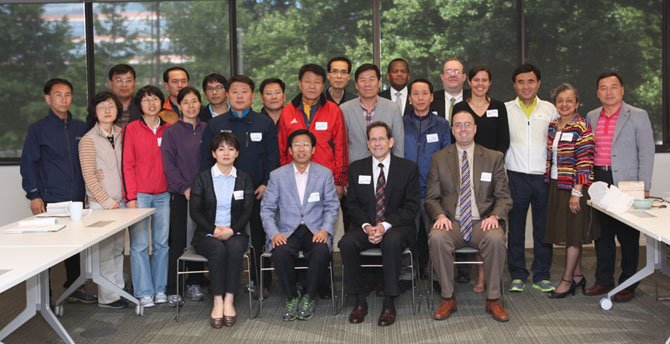 Representatives from the province of JeollaNam-Do in South Korea returned for a second visit to Reston – this time to learn how the planned community delivers services to residents.
Since Reston is not a town, the Reston Association partners with Fairfax County to provide a full range of programs and services to the nearly 60,000 members of the community.
Reston Association president Ken Knueven told the 19 city and county leaders who were from the provincial governor's office that Reston has a history of partnering with other organizations to fill the needs in the community.
Joining in the discussion were representatives from Fairfax County, Joe Mondoro, deputy director of management and budget, Heidi Merkel with the department of planning and zoning and Chris Leonard from the office of human services and Goldie Harrison, legislative aide to Hunter Mill District Supervisor Catherine M. Hudgins.
JeollaNam-Do province is home to just under 2 million people who live in 17 counties and five cities.
In February 2011, another group from the same province came to Reston to learn more about the qualities of living that have made the community successful. That group is involved in building a community similar to Reston that is expected to open later this year. It is projected to be home to 50,000 people and 20,000 households. That is slightly smaller than Reston, which as just over 21,000 households.