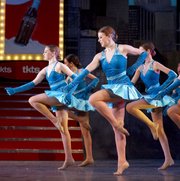 Premiering their new show here before taking it to Greece this summer are the singers and dancers of Encore Theatrical Art Project. They'll perform "Dancin' Fool" on Saturday, June 9, at 4 and 8 p.m.; and Sunday, June 10, at 1 and 4 p.m.
They'll be on the stage of the Richard J. Ernst Community Cultural Center on NOVA's Annandale Campus, 8333 Little River Turnpike. Tickets are $20-$22 at www.encore-tap.org.
Some 40 girls, plus Encore alumni Abbey Hurlbert and Elise Kowalick, have been rehearsing since February, and director and choreographer Raynor van der Merwe can hardly wait for audiences to see them.
"I'm excited because so many different styles of dance are explored in this show, with a great variety of numbers," she said. "And since the story is told through the songs, this production also showcases our many amazing singers, as well as their acting abilities."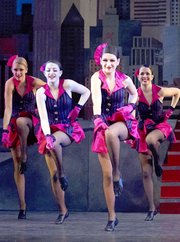 "Four of the performers are graduating seniors and," said van der Merwe. "I love that I was part of their journey and I feel I prepared them well. But I wish I had one more year with them." However, she said all her dancers are both talented and dedicated to their craft.
"It's through all the sacrifices they make that they're able to perform at this level," said van der Merwe. "It's an ongoing, yearlong commitment for them, and people are always amazed at the standard of our shows and their performances. I push them to get the most I can out of them so they'll be their best, and I'm proud of each and every one of the girls and their accomplishments."
The show journeys to Greece for 10 days in June, with the girls performing three times near Athens and once on their cruise ship. "I'm so excited; I love traveling overseas with Encore," said Holland. "I went to China and Spain with them. Encore gives you so many opportunities, and going to Greece to perform is a once-in-a-lifetime chance. We'll go touring and will also get to see their culture, customs and food."