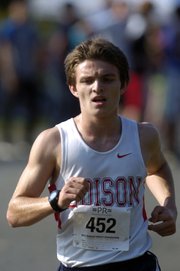 Fairfax Station — Louis Colson and Jennifer Flack led the Edison cross country program to a successful day at the National District championship meet.
Colson, a junior, won his second consecutive district title and helped the Eagles to a boys' team championship on Oct. 25 at Burke Lake Park. Colson finished with a time of 15:30, which was 35 seconds ahead of runner-up Haileye Demsie of Washington-Lee (16:05).
"A lot of guys were actually closer to me this year," said Colson, who beat the 2011 field by 23 seconds. "They were actually on my shoulder through the first half of the course. … It's a lot of anxiety when you can hear them behind your back."
Edison finished with a score of 40. Hayfield finished runner-up with a total of 55, followed by Yorktown (74) and W-L (78).
Edison's Eyasu Yirdaw placed fifth (16:17). Karim Gharbi finished seventh (16:33), John Rangel was 12th (16:37) and Kyle Brown was 15th (16:42).
Flack took home the girls' individual championship with a time of 17:48, 24 seconds ahead of runner-up Sarah Angell of Washington-Lee (18:12).
"You've got to spread the gap and I think I did that pretty well at the two-mile [mark]," Flack said. "Mentally, you've just got think about the clock (when you have a sizeable lead). You're racing against time."
Flack, a senior in her first year with the Eagles after moving from Kansas, helped Edison finish district runner-up. Washington-Lee won its third consecutive district title with a score of 23. Edison finished with a total of 71, followed by Yorktown (93) and Falls Church (100).
The Northern Region championship meet was re-scheduled for Friday, Nov. 2 at Burke Lake Park.