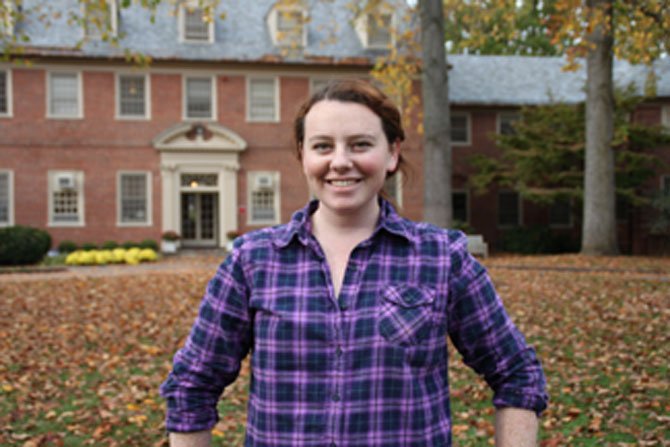 Ian Criman, 18, Robinson, senior, Fairfax
"Romney, because I don't agree with anything Obama has done during his presidency. He's just not been a good president. A lot of what he stands for I do not agree with because of my religious background. I vote Republican because of social issues."
Nikki Robinson, 18, Robinson, senior, Fairfax
"Obama, because I don't like Romney's views, especially towards women. I feel like [Romney] would set us back if he became president. Also because of the debates, I couldn't really take him seriously. When he and Obama were arguing, it was like kids fighting. I feel like [Romney's] very vague about his positions."
Sonia Kahn, 18, Robinson, senior, Burke
"Obama, mostly because he seems more stable with his plans and Romney seems to flip back and forth with his plans a lot. Also with the economy, [Romney] says he'll do things but he doesn't really outline how, so he's really not very specific. In regards to social problems, I lean left anyways, so I'm way more on board with what Obama says. I think Obama's just a better candidate for women and more likely to stand up for their rights."
Aleks Towne, 18, Robinson, senior, Clifton
"Romney, because I believe his economic approach is far more effective. With taxation, the way he's doing taxes I think is better as opposed to Obama; the tax breaks to businesses will help create jobs and benefit the economy. About Obamacare, my grandmother is from England, where they have universal health care, and she explained to me how it's impossible to get in to see a doctor, especially if you
have a disease like cancer. Also, in regards to private spending, I don't need the government to tell me how to spend my money."
Helai Karim, 18, Robinson, senior, Fairfax
"I'm voting for Obama because my main concern as a new voter in this day and age is education and how I'm going to pay for school. It's also the future in terms of jobs, especially for teachers, because that's what I want to do. [Obama] also really supports music departments and for me that is really important because I want to become a music teacher but also because it was something that made me who I am in high school."
-Anagha Srikanth/The Connection
Thomas Vaughn, 18, Great Falls
"I am voting for Mitt Romney. While I have serious issues with both candidates, certain policies of President Obama, such as his drone wars and his support for abortion, are simply too much for me to stomach voting for him. I also believe that Romney will be a little bit better for the economy."
Joe Bender, 18, Arlington
"I have decided not to vote. My reason for not voting in this election is because neither candidate protects the inherent dignity of life. President Obama hasn't cared for human dignity the past four years, and Mitt Romney's history is the same story as President Obama but on a smaller scale. I cannot bring myself to support either one. It saddens me, but I will not vote in this election."
Stephen Garone, 18, McLean
"I am voting for Mitt Romney. I did my research and agree with what he is saying. He is more pro-life than other presidents. In regards to economic plans, Paul Ryan's tax plan is better. I don't trust Obama anymore."
Andrew Shaw, 18, McLean
"I'm voting for Mitt Romney. Obama hasn't done much for America and I think someone else deserves a chance."
Isabel Hefner, 18, Great Falls, freshman at Virginia Tech University
"I'm not completely decided on either candidate yet, but I am leaning towards Romney. The issues I am really concerned about right now are the ones that are the most important to me and affect me the most, such as abortion, healthcare and the economy. Romney comes off as a stronger leader and that is important to me."
Sarah Hefner, 21, Great Falls, senior at Penn State University
"I am undecided, because I don't know who to believe. They attack each other and say the same things about each other and I'm turned off by it. I watched the first two presidential debates and the vice presidential debate, and that's exactly what they did. I would trust someone who is stronger in his convictions. The candidates change their minds and opinions a lot, and I have no respect for that. As leaders, they should have a strong set of beliefs and convictions."
Tory Zehnder, 18, McLean, freshman at James Madison University
"I will vote for Romney, because of his pro-life views. I also don't believe there should be more taxing on the wealthy. I think we should have even and fair taxing. Once I get a job, I will definitely want a tax plan that I like. I'm excited that I can vote now. It will be good that my voice will be heard."
Ellie Darcy, 18, Oakton, Freshman at University of Mississippi
"I am voting for President Obama. I want someone who cares about the people and based on what he wants to do in the future and being consistent in what he says, I think he's the best candidate."
-Jennifer Benitz/The Connection
David Rice, 18, McLean, Thomas Jefferson High School of Science and Technology, senior
"I'll be voting for Barack Obama for several reasons. First of all, I've been pretty liberal all my life and I've grown up overseas in France, Belgium and Greece and it's no secret that Europe is pretty liberal also. It put American politics into perspective for me and helped shape my views. Also, I'll be going to college next year and it's increasingly expensive. Romney's plan has loans relying on the private sector more than Obama's plan and that idea concerns me. As a person, Mitt Romney is obviously a great businessman but as a president, he flip-flops on several topics and changes his views so often that you don't know if you'll have a moderate Mitt Romney or a severely conservative Mitt Romney. Also, I have two very bright younger sisters and they deserve good opportunities in their futures. Obama's platform involves more gender equality and equal pay for women. After taking several classes where I learned about alternative energy, I am a firm believer in alternative energy and although drilling in Alaska would create jobs, we would be depleting resources and taking away from America's beauty. I believe that jobs can be created with alternative energy as well. Obama is doing a better job of focusing on alternative energy, which is the way of the future. In terms of foreign policy, Romney put politics over national security in his criticism of Obama's actions in Libya. Romney also used and abused the death of the Navy Seal that was killed during the attack in Libya along with the US Ambassador as a political advantage. Additionally, Romney and Ryan don't have the necessary foreign policy background. I have taken Chinese all four years in high school and between sophomore and junior year, I traveled to China where I stayed with a host family and went to a small town where I talked to people and learned more about the culture. I think that Romney has treated China as a cheater from the beginning and cutting down on America's number one trade partner is not good for the economy. There are steps that need to be taken but his stance is too harsh."
Maddie Stearn, 18, Vienna, The Madeira School, senior
"For me it's a simple choice: I'm voting for Obama because I feel that he makes this country a safer place for me, especially as a woman. People often say that you can't be a 'one-issue voter', but they don't realize that all of the issues are connected in complex ways. I'm voting for the candidate that believes in gender equality because it's the right thing for our country, not just the right thing for women."
Ashley Hadjis, 18, Alexandria, The Madeira School, senior
"I am voting for Mitt Romney in this election because I believe that Obama has not met any of his promises and the economy is still dismal. He focused too much time on Obamacare, which I believe, like Mitt Romney, should be repealed. Romney's time at Bain Capital and as Massachusetts's governor gives him the experience as a businessman that we need to get our country back on track."
Clayton Shepherd, 18, Broad Run High School, senior, Ashburn
"I'm voting for Mitt Romney and it's for a number of reasons. For one, I come from a DOD family and in Obama's first year in office, my father's pay was frozen as a civilian of the Navy. And the second reason is the faltering economy, especially as a soon to be college student with a number one priority of having a job that can fit my skill set that I acquire at whatever university I attend. I feel like the status quo isn't good enough as proven by the tension in the election."
Ian Rand, 18, Northern Virginia Community College, Vienna
"I am voting the Libertarian ticket in this upcoming election. While third party votes generally don't take much hold, I believe in the Libertarian party's conservative government values like states' rights along with Liberal social policies, such as avocation of gay marriage and drug law reforms."
Chelsey Foster, 18, The Madeira School, senior, Purcellville
"I'm voting for Mitt Romney because I believe that his ideas and views are ones that will benefit America, fix the economy, and allow our country to thrive again. Right now in our country, babies are born with over $35,000 of debt because Obama chose not to cut spending or create a budget. To me, it seems obvious that the right choice for president is Mitt Romney, because America needs to be restored to the principles that once were the core of our prosperity, and he can do that. As the Romney campaign says, 'What we need is a real recovery.'"
-Michelle Kain/The Connection
Hannah Selz of Burke, senior, Robinson Secondary
"Obama. Romney's religious views have skewed his views on women. He can't outlaw abortion, so instead he's taking away safe ways to get it. Planned Parenthood gives cancer screenings, STD tests and helps pregnant women and mothers who can't support their kids. It's the number one clinic in administering abortions, and so Romney would be taking away the cheapest and safest way of getting one. He's going to change Obamacare to make it legal for employers to take away employees' insurance for birth control.
My brother is 22, and if Romney wins, then by January he won't have healthcare. I don't agree with Obama's stance on Israel, but I agree with him on pretty much everything else."
Nick Bynum, of Fairfax, senior, Robinson Secondary
"Romney. I'm leaning towards Romney because Obama's plans aren't working out, and I feel we need a change. Young voters look for a candidate focused on education and the economy, which Romney talks more than Obama about improving. Romney's focusing more on the middle class."
Kelly Morgan, of Fairfax, senior, Robinson Secondary
"Obama. I'm voting for Obama I guess because he believes in equality for all LGBT people and I think that's really important. However, I don't like how Obama's okay with abortion, because it's not something I believe in.
Romney I feel doesn't have younger kids anymore and with Obama's girls about to enter adolescence he's more in tune with what people our age want and need."
D'Arcy Sampson, of Clifton, senior, Robinson Secondary
"Obama. I'm really into Obama because he supports the same ideas that I support, and I like his views on most issues. A lot of anti-Obama people don't support him because they feel his administration didn't improve America's situation, but he inherited it from [the Bush administration]. I'm willing to trust him for four more years. I agree with his social opinions. I don't think that Romney is a good ambassador for America because he doesn't support women, immigrants or LGBT. I especially don't like his policy of 'self-deportation' where he would make life miserable for immigrants. Overall, Obama appeals a lot to younger people."
Kevin Thompson, Fairfax, Robinson Secondary
"I am voting for Obama. I believe that Obama has done more good than people give him credit, and I do not trust the constant policy-shifts that Romney has made. I think that young voters like me want to see a president who looks toward the future, and not only leads for today, but thinks about the influence he will have years from now. Short-term fixes may not necessarily be the solutions for future social, economic, or environmental issues."
-Hannah Bunting/The Connection
Jennifer Benitz/The Connection