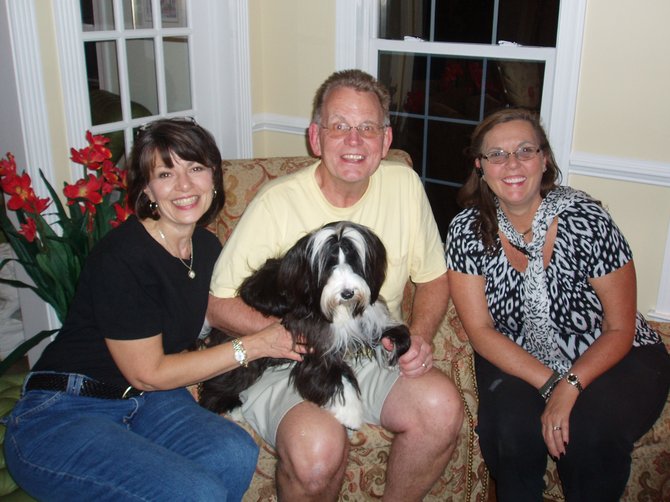 My wife Donna and I set out for the annual Great Falls Art Studio tour on Saturday, Oct. 20, and we took little Sashi, our 11-month-old Tibetan Terrier. Throughout the day we had such an enjoyable time. Sashi was so wonderful, everyone "oohing and ahhing" over her. She loved being out on a beautiful autumn day meeting people and other dogs and seeing new sights. At 4:30, we stopped at Deli Italiano to eat. We were to sit outside and I got Sashi and her food from the car. I tied her to the arm of my chair and went inside to get a plate to put her food on it.
A Letter to the People of Great Falls
On Saturday, Oct. 20, while attending the Great Falls Artist Studio Tour, we lost our dog, Sashi, a Tibetan Terrier. For the next 26 hours, our ordeal was excruciating. Through the kindness of many in your locale, Sashi is reunited with us, and we want to say thank you.
I have heard it said, that if you ever happen to have the misfortune to lose a dog, the best place is in Great Falls. We can certainly attest to that. The concern and kindness shown to us by so many is uncommon and so appreciated.
With heartfelt gratitude,
Philip and Donna Martin
Ashburn
When I came back and was preparing her lunch, something startled her, maybe a motorcycle, and she jumped up with the chair and ran into the parking lot dragging the chair. The chair got hung on a car and she broke the arm off, dragging her leash and running lightning fast toward the busy intersection at Georgetown Pike and Walker Road with me in pursuit along with six other strangers. We even picked up three boys on skateboards. Sashi traversed the busy traffic and darted into a Safeway parking lot still dragging her six-foot leash. At that time Officer Edward Orellana in his patrol car arrived to help and he followed along Columbine Street with Sashi running at full speed. On the cul de sac at Follin Farm Lane, Officer Orellana lost her as she ran up the hill toward Nedra. The officer then returned and told Donna and me where she was last seen.
We had about two hours of sunlight left. Donna and I kept driving the streets and calling out for her. We went to the Great Falls Fire Station and they were very helpful. In particular, Robert Schoenberger allowed us to use his computer to design a flier with her picture. We put 50 up until 10 p.m. and drove home in shock. I was unable to eat, fatigued and felt like I was having a heart attack.
Donna and I were stunned and distraught. I alerted our Home Again website as Sashi has a microchip inserted in her, and ID tags from Loudoun County, AKC and Home Again. Five of our neighbors and Donna's sister and niece volunteered to head back Sunday morning. Late Saturday night I used Google Maps to zoom into the area and printed out packets of maps and terrain for the searchers. I printed 250 more fliers. At 8 a.m. we headed back going door to door and through the adjoining woods. I was most worried about Sashi becoming entangled on brush with her leash. Mollie Vardell, a local artist and realtor, offered to get the news out on the neighborhood network.
We stopped by the local Methodist church and Mitch, the music minister, prayed with Donna and me. I just broke down now crying like a baby, both Donna and me now crying, placing it all in God's hands.
For our little Sashi we found ourselves questioning, "Why God?" and it was so hard to keep positive and only our faith got us through it. Our neighbors left in the early afternoon—all pretty resigned to the fact that Sashi was gone or entangled somewhere with foxes. Donna and I stayed with more prayers. I went back to the exact place where she was last seen and thought, "now, where am I going to go if I were Sashi?" We focused on a smaller area, but with no luck.
We drove home, so depressed, so sad, we were just out of it. At 7 p.m. I sat down at my computer to begin to send out the sad news and was beginning to write to say I was just not up to doing my weekly review, and planned to take a couple days off because I was so despondent and emotionally drained, and also worried about Donna's condition.
At 7:10 p.m., we got a call from Sherri Helms, the manager at the CVS in the Safeway shopping center. She said she had seen the commotion Saturday in the parking lot and had seen the flier. She was on her way home and spotted Sashi crossing Georgetown Pike at Applewood Lane. It was our "ray of hope." I called Officer Orellana, and luckily he was available and said, "Mr. Martin, I am on it." In ten minutes, he called and said, "I've got her in the back seat of my patrol car!" They had her at the fire station and we immediately drove to get her. What a relief! What a blessing.
For our Catholic friends lighting votive candles and praying to St. Anthony, to lots of prayers from our Protestant believers and good wishes throughout, the 26-hour ordeal had a very happy ending.
Sunday, the day she was found, was Sashi's first birthday, and thanks to God and so many people, our dear sweet Sashi is once again with our family.
So many people to thank—here are some of them:
Officer Edward Orellana—he went way beyond the call of duty, clearly a caring professional;
Fireman Robert Schoenberger—he volunteered to help with fliers and recharged cell phone batteries;
Sherri Helms, manager at CVS—Sashi's "angel," she called in the location of Sashi;
Bridgette Romantica, Deli & Pizzeria—she chased Sashi with a slice of pizza;
Robert Mitchell, music minister from the Methodist church—he prayed for us and Sashi;
Mollie Vardell—she initiated the notice on the neighborhood network;
Sharon Rainey—she got the notice out on the neighbors network;
Lorenzo Luciano—he works at the Shell Station, showed kindness and offered aid;
Our search party—Doreen Allen, Morgan Allen, Lisa Clements, Shirley Harr, Robyn Hess, Sue and Jim Mayne.