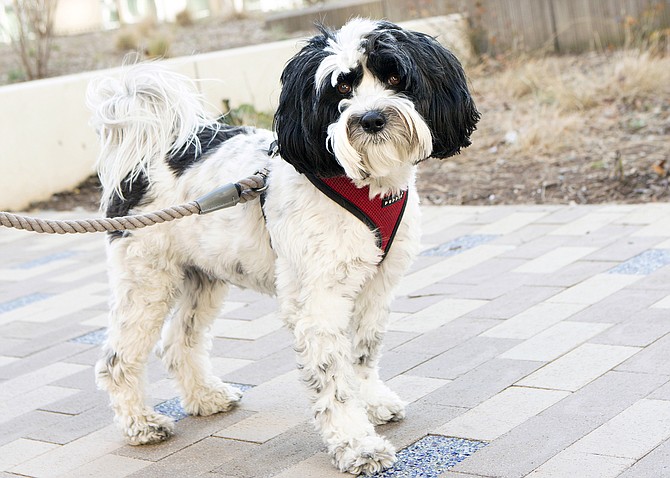 "If the door opens and a dog is there I wasn't expecting, I sometimes have to bark aggressively to let them know who's boss." The move to an apartment has definitely been a lifestyle change for this "cheeky" Tibetan Terrier.
Ellen Sussna-Heyman and David Heyman had been spending time in Arlington as a weekend getaway from their Capitol Hill house for a while. But the full-time move to Ballston last September meant no more yard for four-year-old Tashi. She's been perfectly fine with the change though. Apparently, Tibetan Terriers are unusually attuned to their pet parents' emotions. So if the two-legged Heyman's are happy, little Tashi is happy too.
And while she may wistfully remember the joy of having her own yard, she loves the sights, sounds and smells to be found on long walks on Ballston's wide sidewalks. And she enjoys having access to so many parks within walking distance.
Tashi doesn't find the dogs in Arlington much different than those in D.C. They're perfectly fine. But she likes people best of all anyway. And high-rise living is a candy store of attention for this adorable ball of fur.

Thinking of Adopting?
If you are interested in adding a cat, dog or small animal pet to your household, here are a few local rescue organizations who might be able to help you find your perfect match:
Animal Welfare League of Alexandria
Animal Welfare League of Arlington
Lost Dog and Cat Rescue Foundation
ArPets is a weekly feature for highlighting the well-loved pets of Arlington as well as animals who are available for adoption. If you or your dog, cat, iguana, bunny, rat or any other pet, has an interesting pet story to tell, send email to: joan@joanbradyphotography.com.
Joan is an award-winning Connection Newspapers columnist and local photographer specializing in pets, children and families and contemporary business portraits.