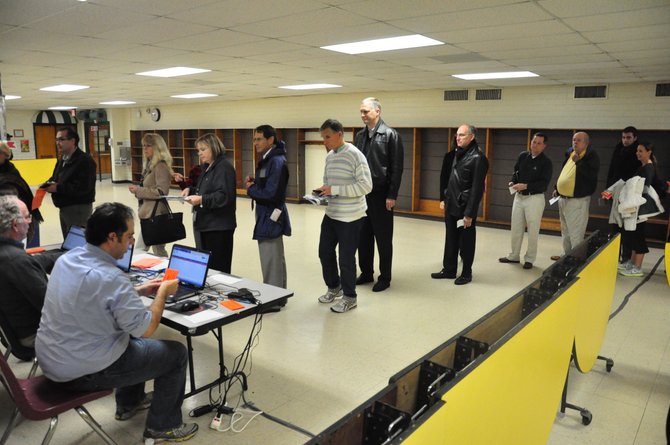 McLean residents flocked to the polls Tuesday, Nov. 6 to choose a president, senator and congressman, as well as vote on several key County issues. As early as 5:30 a.m., the parking lots were full at Langley High School and the Lewinsville Senior Center, and lines stayed full throughout the morning.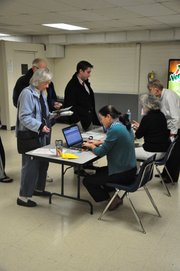 "We had people lining up through the entire length of the hall, almost from the entrance back to the cafeteria at 5:30 a.m.," said David Rampy, an election officer working at Langley Tuesday. "We expect about 2,500 to 3,000 to this precinct today, which should be about the same number as the 2008 election. The first wave lasts till about 9 a.m., then it should slow down."
While lines tended to build up quickly, often stretching to the outside of polling locations, election personnel said they were able to move people through quickly.
"It's been busy, but the electronic check-in, instead of the big books, as well as the paper ballots, have helped us move people through pretty quick," said Margaret Turek, an election volunteer at Lewinsville Center.
Stations had a few touch screen devices, and around 10 stations for votes to fill out their paper ballot. Once they were filled out, voters fed them into an optical reader.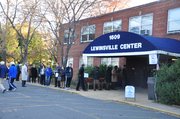 While the paper ballots were mostly a way for voters to skip the lines on the touch screens, they became more in demand as a few machines briefly went down at Langley High School around 8 a.m.
"I actually thought the paper ballots weren't bad at all," said Steve Howard of McLean, who had to switch. "Sort of like a test in school, except we get to feed it into the machine ourselves."
While the decision between Republicans and Democrats was on most people's minds, many also were careful to make a decision on the local issues.
Photo Gallery
AMJ_M_ELECT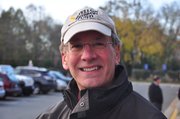 Click Photo for Flash
"I hope people did their homework about the ballot initiatives, especially the one for storm water funds," said Nelson Truong of McLean. "Tysons Corner, past, present and future, has shown us the importance of making sure storm water has a place to go, especially if we keep paving over the surfaces where water would normally go."