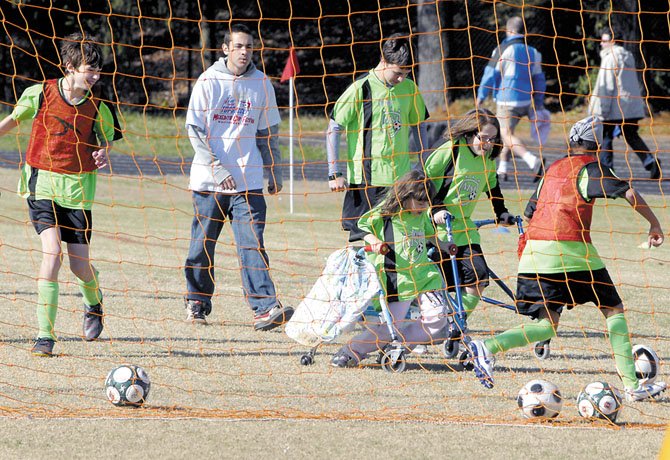 Potomac — Mary Cassell's family plays soccer. Her sisters. Her brother. Everyone. Mary, 12, who has cerebral palsy, plays soccer with her walker that she uses to navigate the pitch.
"It's a human shield when it comes to defense," she said, of the adaptive device. "It's a metal cube, like an extra defender, it's kind of hard to get around."
Last weekend, Mary Cassell and dozens of athletes with disabilities played in this fall's culminating event for TOPSoccer, an outreach program of soccer for youth with disabilities. TOPSoccer, a Special Olympics program, partners with MSI to offer fall soccer leagues for toddlers to young adults.
"It gives you something to do on the weekend," said Mary, who has a brother and two sisters — including a twin — who play soccer and volunteer with the program.
Catherine and Elizabeth Cassell, Mary's sisters, find the program inspiring and appreciate all opportunities Mary gets to play. "It's kinds of the family sport, everyone does it," said Catherine and Elizabeth Cassell.
But Mary simply loves the game; she doesn't feel the need to be included in the broader mission of inclusion.
"I really do not care. Soccer is fun. I don't care whatever other people think," she said, when asked if her soccer program raises awareness of her peers or people in the community regarding the abilities of people with disabilities.
That mission she passes back to her parents and family, to MSI, and to Pam Yerg, who continues to captain efforts to turn the dormant Potomac in-line hockey rink into a field that can be used for athletes with special needs.
"We need a surface to allow people with disabilities who have assistive equipment to play multiple sports," said Yerg. "I'm hoping the community is positive and embracing of the opportunity."
ON THURSDAY, NOV. 15, the Montgomery County Department of Recreation will host a meeting at the Potomac Community Center at 7 p.m. to elicit feedback on the proposal to adapt the rink for use for soccer and other sports programs.
"It's time, it makes sense. This is a really positive thing," said Yerg.
Yerg has been looking at the dormant roller hockey rink at the Potomac Community Center for some time.
"We believe it holds huge potential value as a multi-sport facility for use by people in our county with disabilities," she said.
This summer, the county repaired the wheel chair ramp leading to the rink and completed accessible parking spaces at the community center and sidewalk ramps.
That was serendipitous, said Gabriel I. Albornoz, director of the county's Department of Recreation. The county already had a project in place to ensure ADA compliance to its recreation areas throughout the county, he said.
But that project did eliminate one cost of renovating the rink, he said.
Next week, the county will move forward on eliciting input from neighborhood residents.
"We want to have consent with neighbors and the community and to see if there are thoughts, issues and concerns," Albornoz said.
THE DORMANT RINK will provide a safe, flat surface for people with disabilities who use assistive devices such as crutches, walkers, wheelchairs or prosthetics. It could be used for soccer, kick ball, T-ball, bocce, lacrosse and various other sports.
Get Involved
Public Meeting on Proposal to Modify Potomac Community Center Roller Rink, Thursday, Nov. 15, 7 p.m. Potomac Community Center, Social Hall, 11315 Falls Road
Montgomery County Department of Recreation seeks public input on "a suggestion to modify the existing Potomac Community Center roller rink in order to provide a smooth, soft surface, accessible sports area," for use by athletes with disabilities, according to the Recreation Department. "A renovated composite/textile surface will expand opportunities for all adaptive sports, including individuals with disabilities to participate in activities such as soccer, field hockey and lacrosse. The surface would also accommodate individuals that use assistive equipment such as wheelchairs and walkers. The idea is under consideration after being suggested by the community advisory committee."
Residents and interested groups that actively support services for individuals with disabilities are encouraged to participate in the discussions.
Contact Jeffrey A. Bourne at 240-777-6800.
Pam Yerg, area director of Special Olympics Maryland — Montgomery and Maryland Director for TOPSoccer, can be reached at 301-424-3083, 301-424-7533 and at jeyclan@verizon.net.
"There is a tremendous need for this type of amenity," Albornoz said.
Yerg coordinates the TOPSoccer adaptive program and is the area director of Special Olympics MD-Montgomery. Some of her players use crutches and walkers and "struggle through the ruts and grass and the mud" to be part of soccer activities and games.
Mary's Cassell's father calls the potential to have the rink and a flat surface a "game changer."
"That will be such a difference-maker for these athletes," he said.
The rink could also benefit Wounded Warriors, an organization supporting disabled veterans in partnership with Walter Reed National Medical Center and Disabled Sports USA, as well as other programs in the county that serve those with disabilities.
The Wounded Warriors program has asked the county for an inventory of accessible recreation facilities across the county, Albornoz said.
Yerg obtained estimates that substantiated her theory that the cost of demolishing and bulldozing the site and resodding the field would be comparable to the cost of resurfacing the rink.
"It's an exciting opportunity," she said. "There are no other outdoor multi-sport and sports training spaces like this rink anywhere in Montgomery County, which is why we believe it presents a unique opportunity to serve some of the community's most underserved citizens."
Lynn Miller enjoyed her first season with the soccer program, and her sister Eileen braved the impending potential hurricane to come from Ashburn watch her sister play.
"It's a good sport, it's good for your health, and good to run around. It's a good opportunity to play soccer, to get exercise instead of sitting at home," said Miller, who also has a red belt in Tae Kwondo.
"How fortunate we are to live in a time when she can participate in all kinds of activities," said her mother Rosemary Miller.