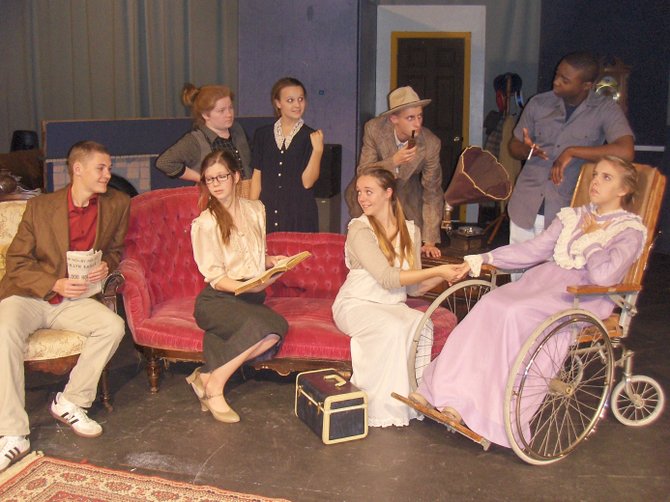 A British murder mystery, "Night Must Fall," is Robinson Secondary's upcoming play. It's slated for Thursday-Saturday, Nov. 15, 16, 17, at 7:30 p.m. Tickets are $10 at www.robinsondrama.org and $12 at the door.
"It's a psychological thriller set circa 1935 in Essex, England," said Director Chip Rome. "And it's off the beaten path from the productions most high schools do."
Cranky old Mrs. Bramson rules over a couple servants; but soon, the household dynamics change. Her niece Olivia comes to stay and a man from Scotland Yard tells them all a woman is missing. As it turns out, she's been murdered. Meanwhile, a man named Danny arrives, gets the maid pregnant and charms his way into Bramson's good graces. But Olivia begins to suspect he was involved in the murder, and the tension keeps building.
"My mother passed away last June, and I remember prompting her, in the 1960s, when she played Olivia in community theater in Worcester, Mass.," said Rome. His cast and crew of about 30 have rehearsed since early September and he's pleased with their efforts.
"They're diving into the challenge of the accents and interpreting their lines and the way their characters evolve over time," he said. "It's been a delightful experience to have such a small cast because I can delve into character development in a way in which I can't in a larger production. This is a character-driven play."
"It takes the audience on a ride—with enough red herrings and change that they're not sure where they're going," continued Rome. "It's melodramatic, with the actions and scene transitions enhanced by music. Student Alex Bulova found the original music and, for only key pieces, he trained and conducted the school orchestra and recorded it."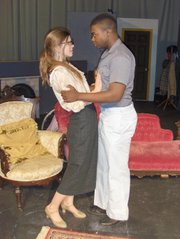 He says the audience will be fascinated by Danny, whose character has several dimensions. "His attitude flips between quiet, silly, dangerous, charming and threatening," said Rome. "And people will like the atmosphere of another time and place, plus the building suspense of what misdeeds have been or might be done."
Sophomore Sarah Marksteiner plays Olivia. "She comes off as uptight, but really has more personality," said Marksteiner. "She writes poetry in her spare time and secretly longs for a more exciting life. She craves drama, but doesn't want to admit it."
"I absolutely love this role," said Marksteiner. "She has qualities that are almost an extreme version of me, and I like the way she evolves so drastically throughout the piece. I think the audience will really enjoy the tension that starts to develop, and they'll become attached to the characters."
Portraying Bramson is senior Carys Meyer. "She's in a wheelchair and is a crotchety old lady who wants people to do everything for her," said Meyer. "She loves attention, wants to control her whole world and wants everything to revolve around her."
ENJOYING HER PART, Meyer called it different from her past characters and a complete departure from her own personality. "It's been interesting playing around with her voice and accent," she said. "And people push me around in a wheelchair, the whole show, so that's fun."
"The show has a lot of humorous moments, but the story will also keep the audience guessing," said Meyer. "Because it's a classic murder mystery, it'll be fun for the audience to try to figure out."
Senior Ivonte Milligan plays Danny. "He's a complicated guy and everybody loves him, except Olivia," said Milligan. "So he tries to get her to love the Danny he shows the public—but he slips up and shows the real Danny. He's like your average serpent." Milligan said the audience will like the set, the show's "dark and mysterious" lighting and mood, plus the overall suspense of the play.
Initially, he said, "I had to wrap my head around who Danny was and what his quirks were. But it's fun playing somebody crazy who's calm and collected one moment and blowing up, the next. This is my first lead and it's nice to have that responsibility; my mom, who's always supported me, is proud."
The lighting designer is junior Anna Ready, who created a vision of what the lights in Bramson's home would be like. "With a show so dramatic, I had to think of different colors and angles of lights that really set the mood for the scenes," she explained. "The lighting lets the audience know something's going to happen, without saying anything."
She said it took about 20 minutes to design, but a month to hang all the lights so they'd work exactly the way she wanted. She controls them by a computerized light board. "My freshman year, I talked with and watched the lighting designer, and it was fascinating," said Ready. "Then when he graduated, I took over."
TOUGHEST, she said, is angling all the lights because "if it's not just right, it's really obvious." But she loves the liberty she has "to do what I want with my design. And seeing it actually come to life is a really good feeling."