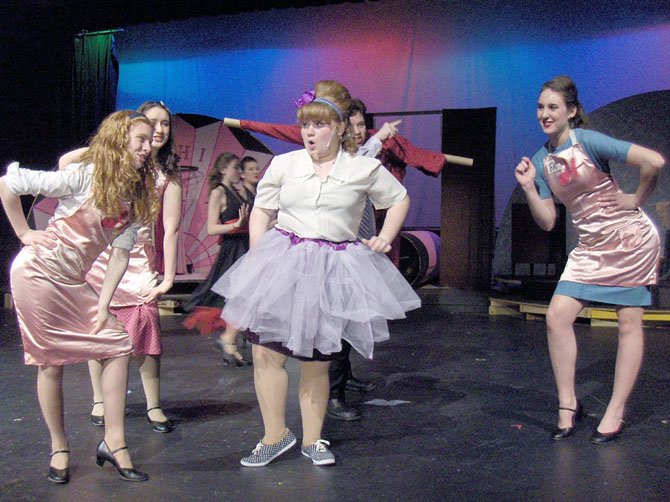 Robinson Secondary's Cappies production is "Hairspray," and Director Chip Rome is more excited about this show than he's been about any show in "quite some time."
Calling it "an energizing, upbeat show," he said it tells people, "It doesn't matter if you've been marginalized; you have every right to be happy and successful."
This musical comedy bursts upon the stage Thursday-Saturday, May 2, 3 and 4, and Friday-Saturday, May 10-11, at 7:30 p.m. Tickets are $12 at the door and $10 via www.RobinsonDrama.org.
Featuring a cast and crew of nearly 100, plus a 20-piece orchestra, they've rehearsed since January. "There's so much singing and dancing that the cast has been working hard on the sheer volume of production numbers, and it's paying off," said Rome.
It's set in 1962 Baltimore, so Rome searched extensively for the right person to play the lead role of Tracy, plus extra students for the story's diversity. "I'm glad we pulled in some new actors," he said. "It's an incredibly talented cast."
Scenes take place in Tracy's home, the Corny Collins TV show, the record shop, the Hefty Hideaway Dress Shop and Wilbur's joke shop. The boys wear ties and tucked-in shirts and the girls are in knee-length dresses.
"People will love the show's optimism," said Rome. "The audience will be on its feet dancing by the end and will leave feeling empowered and wonderful."
Playing high school sophomore Tracy Turnblad is junior Hannah Sikora. "Tracy's extremely positive and driven," said Sikora. "She's a dreamer who wants to be famous and be seen on the Corny Collins Show, singing and dancing. She also has a huge crush on Link Larkin and obsesses over him."
Sikora loves her role, but says it requires lots of stamina. "I'm hardly ever offstage and there are lots of lines, exits and entrances to remember, so it's a marathon," she said. "But Tracy's so peppy that it's refreshing to play someone so happy and be around that joyful energy."
HER FAVORITE NUMBER is "Without Love," which Tracy sings with her friends Penny (Katie Rogers), Link (Jamie Green) and Seaweed (Ivonte Milligan). "It's fun for all four of us to sing together, and it has a great message about being young and in love," said Sikora. "And the lyrics are really clever and funny."
She said the audience will enjoy the show's catchy music with great beats. "Lots of people are familiar with this show, and I think we do it justice," said Sikora. "The audience will enjoy hearing those songs they know and love."
As in the "Hairspray" movie with John Travolta, senior Jackson Viccora dresses as a woman to portray Tracy's heavyset mother, Edna. "She's a hot, young thing underneath a lot of layers," he said. "She's a little reserved but, once convinced to pull back the curtain a bit, she's a ton of fun and a blast to be around."
Viccora said it's physically tough playing a woman, "because of the fat suit I have to wear; and, mentally, getting into a woman's mindset. I'm definitely enjoying it, though; it's helped me get in touch with my feminine side." He especially likes the song, "Timeless to Me," which Edna and her husband Wilbur (Spencer Boyd) sing together, because "you can really feel the love between them."
He said the songs "won't leave the audience's heads and they'll like the show's message about being yourself, accepting others for who they are and seeing past superficial details."
Senior Ivonte Milligan portrays Seaweed J. Stubbs. "He's a friendly, carefree teenager who loves to dance," said Milligan. "He also cares about equality and doesn't see the need for segregation. He's black and falls in love with Penny, a white girl—which he could get in trouble for, back then. But he fights for her."
Milligan likes his role because Seaweed's "so energetic and has suggestive dance moves and a funky persona that everybody accepts." His favorite number is his first solo, "Run and Tell That," because "it asks why can't blacks and whites just be together? It's an upbeat, joyous song." Milligan said the audience will like the show's "lightheartedness and will leave the theater with happy hearts and a great message of unity."
Junior Jamie Green plays teen heartthrob Link Larkin. "He's the budding Elvis on the Corny Collins TV show," said Green. "He's dating the shallow Amber; then he and Tracy meet and click. He's privileged, but he matures; and when he meets the black people, he learns to stand up for what's right. He's fun to play because he's so confident and gets to show off and act like a superstar."
"Cooties" is Green's favorite number because "it's the meanest, most obnoxious song I've ever heard—and the funniest thing to not take seriously." Besides the show's singing and dancing, he said the audience will like the romantic couples' chemistry and "how funny Tracy's parents are together."
PORTRAYING Motormouth Maybelle is senior Michael Lamar in another gender-bending role. "She's the typical African-American mother of the early 1960s," he said. "She loves the Motown sound and runs her own record shop. She's loud and the life of the party; she's big, blonde and beautiful."
He's normally shyer than Maybelle's large, brash personality demands, but he likes playing her because "she's so loving and willing to fight for what's worthwhile." Lamar said the musical's makeup and hair are well designed and the costumes are "gorgeous." Noting that "this show's so well-crafted, he said it shows that, "without love, life wouldn't be as much fun as it is."