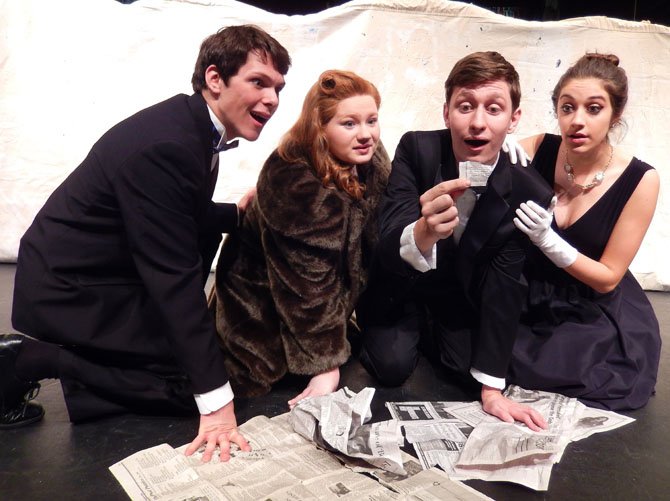 A whodunnit, murder mystery, musical comedy, "Curtains" is Robinson Secondary's upcoming Cappies play.
There's a show within the show, and the lead actress of that play, "Robbin' Hood," is murdered on opening night at the end of her performance. So the cast and crew are kept in the theater for questioning because they're all suspects. The story happens over 48 hours as the actors are replacing the lead, rehearsing and fixing their show, while trying to solve the murder.
There'll be a 22-piece orchestra, plus a real cast and crew of 85 that's been rehearsing since January. "We wanted a show that was a little off the beaten path, had a large cast and was light, frothy fun with music," explained Director Chip Rome. "And since it's about the theater, it's particularly fun for us to do and the audience should enjoy it."
IT TAKES PLACE at Boston's Colonial Theatre in 1959 and is PG-13 for language, violence and sexual innuendo. Nili Bassman, a former Robinson theater student, was an understudy in the Broadway show directed by another Robinson alumnus, Scott Ellis. So, said Rome, "It's an appropriate show for us to do."
Delighted with his cast, he said, "I have talented people in the leads – and everyone who auditioned for a lead role was so good that they're either a lead or in the ensemble." And for the first time, audiences will see what the backstage really looks like and will watch the stage manager and crew move the sets into position.
"There are numerous costume changes, ranging from formal wear to cowboy duds to pajamas," said Rome. "The audience will like the broadly drawn, fun characters and the plot's surprises. They'll also love the jazzy music, and the dancing is fabulous."
Senior Jamie Green portrays Christopher Belling, "Robbin' Hood's" director. "He's British, egotistical and takes credit for what others do," said Green. "He's witty, but sarcastic. He hated the victim, as did everyone else, because she was mean and not talented. It's fun playing him because he has so much attitude and I have the freedom to decide how to treat the other actors."
Green's favorite song is "In the Same Boat," a big number that's sung three times because the "Robbin' Hood" composers keep rewriting it. "The final version is amazing and so much fun to watch," he said. "The whole show keeps you on your toes, trying to figure out who's the killer. There's happy-go-lucky, upbeat, square-dancing music and some lyrics have double entendres. And people's priorities to solve the murder get put aside to fix the play they're rehearsing."
Playing the detective's love interest, Nikki Harris, is senior Maddy Ingram. "She's the stereotypical, naïve ingénue," said Ingram. "She loves theater more than anything and is hardworking and passionate about what she does. She's a bit ditzy, but there's more to her than meets the eye."
It's Ingram's first lead at Robinson and the most challenging because of her really big dance number. "Nikki has her fun moments, and I like playing a love interest and flirting," said Ingram. "And I relate to her because musical theater's what I want to do, too."
SHE LIKES THE SONG, "Tough Act to Follow," because it's cheerful and theatrical and "the choreography's cute and quirky. The show's very clever; it gives an inside view of what theater's like. There are a lot of mess-ups along the way, but the final product is really good."
Senior Spencer Boyd portrays Lt. Frank Cioffi, a Boston police detective trying to solve the murder. "He's a fun character because he's trying to be serious and do his job, but he has a tremendous love of theater," said Boyd. "So he's giddy to be onstage and has to find that balance and stay professional. He also does community theater whenever he can."
Boyd loves his part because "I like playing comedic roles and my character has some great one-liners." As for the audience, he said, "It's a fun show to watch. Everyone has lots of energy and there are great jokes and musical numbers. It's just a good time at the theater."
Playing Georgia Hendricks, half of the "Robbin' Hood" songwriting team, is senior Katie Rogers. "She's mature, but pretty sassy," said Rogers. "Her composing partner is her ex-husband Aaron [Stephen Diggs], so it's tense working with him. But she's also a caring person who comforts the others after the murder. She gets to have married-couple arguments with Aaron and returns to the stage after the murder. She also has a really big, song-and-dance number, 'Thataway,' where people are standing on tables and doing back flips. And it's been so much fun doing that number as Madame Marian in 'Robbin' Hood.'"
Overall, said Rogers, "The audience will love that it's a murder mystery that's funny, campy and lighthearted. And each character has their own back story, so the audience gets to know them throughout the show."
Show times are Thursday-Saturday, May 8, 9, 10, at 7:30 p.m. Tickets are $12 at www.robinsondrama.org.