Lucia Anna Trigiani, a principal with MercerTrigiani law firm, has been named "Leader of the Year" by the 2012 class of "Leaders in the Law," a group of distinguished Virginia attorneys who have made significant contributions to the practice of law.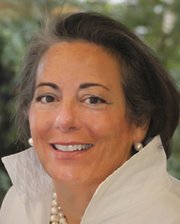 Virginia Lawyers Media, publisher of Virginia Lawyers Weekly, honored Trigiani and the 27 other honorees during an Oct. 25 reception at the Science Museum of Virginia in Richmond.
Since 2006, the professional awards program has recognized lawyers across the Commonwealth of Virginia for changing the law, serving the community, changing practice or improving Virginia's justice system.
Immediate past president of the Virginia Bar Association, Trigiani is a nationally recognized attorney who practices community association law. She has been appointed by Virginia governors to serve twice on the Virginia Common Interest Community Board and has chaired the board since its creation in 2008. She also serves on the boards of directors of the Virginia Law Foundation, Library of Virginia Foundation, Lead Virginia, Virginia Free and the Advisory Board of Little Sisters of the Poor. Also, Trigiani is the recipient of several industry awards from the Community Associations Institute.