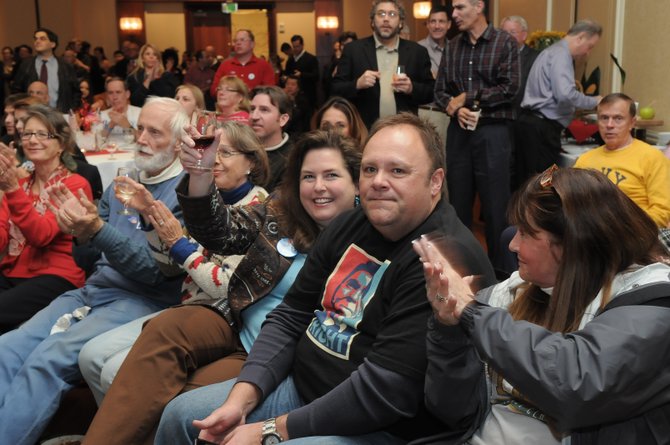 What started as a night of hope for the Fairfax County Republican Committee ended on something of a sour note, as Republican presidential, senate and congressional candidates were not able to oust incumbents.
"I think we got off to a great start, I was pleased to see some of the early big states go to Governor [Mitt] Romney, but when I looked up and saw it tied at 153 for about half an hour, I thought he might have run out of steam," said George Pindrell of Falls Church. "It just got hard to remain optimistic seeing states like Pennsylvania go to President Obama, and Mitt needed to win a few surprises to stay in the race, and those just never came."
"We did a lot of hard work thanks to a lot of dedicated people," Committee Chair Jay McConville. "We knocked on about 130,000 doors since March, and it just wouldn't have been possible to reach and listen to so many people without our volunteers."
Photo Gallery
Election Results
Click Photo for Flash
As Republican presidential candidate Romney built an early lead thanks to victories in several southern states, Republican senatorial candidate George Allen took an early lead over Democrat Tim Kaine as well.
Supervisor Pat Herrity (R-Springfield), said he was energized by the feeling he got at the polls during the day.
"I haven't seen this much excitement within the party since we elected Bob McDonnell in 2009," said Herrity. "I felt it while knocking on doors the last several months, I felt it in the number of yard signs I saw in front yards across Fairfax County and I felt it at the polls today."
Herrity said reports from his district were long lines throughout the morning, with a gradual slowing into the evening.
"That shows me that everybody, on both sides, felt the need to get out and vote as soon as they could," he said. "It's a great thing to make voting that kind of a priority."
The only candidate in attendance at the event was Republican challenger Chris Perkins, who ran against Gerry Connolly for the 11th district. As the precincts started rolling in, Connolly's lead became insurmountable, and Perkins conceded around 10 p.m.
"The numbers were just not there for us this time, but we fought a great fight, and it has been one of the most incredible experiences of my life," Perkins said. "It's hard to capture everything I'm feeling right now, but the gratitude for everyone who was with me on this experience is overwhelming."
Much of the crowd seemed to disperse after Perkins' concession, only to get excited one more time as it was announced that Romney won North Carolina, one of the east coast states that had been deemed "too close to call."
But soon the west coast Polls closed, handing Barack Obama California, Washington and Hawaii, bringing his total to 244 electoral votes. Just after 11 p.m. the news broke that Obama had won Ohio, virtually sealing his re-election bid.
"It looked for a bit there like things would turn out right, with Romney and Allen winning, but it went downhill pretty fast," said Chase Neil of Fairfax. "In the end, the only victory Republicans have was keeping Frank Wolf and the majority in the house, but we had those this morning. As people said in a campaign four years ago, we were ready for change."