Mary Garner's New Year's resolution is to increase the intensity of her workout routine. The 69-year-old retiree plans to seek the advice of a fitness trainer to create a plan to achieve her goal.
"Over the last three months, I've hit a plateau with my workouts," said Garner, who spent more than 40 years working as a math teacher for Alexandria County Public Schools. "During the holidays I ate too many cookies. I'd like to lose at least 10 pounds, but I don't want to put too much pressure on myself."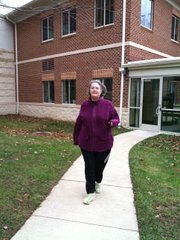 In December of 2011, Clint and Vickie Lambert resolved to shed extra pounds in 2012. The decision was promoted by a conversation with the couple's cardiologist who suggested weight loss. As they said goodbye to 2012, Clint, who is 68 had lost 45 pounds, while Vickie, who is 69, had lost 35 pounds. The Lamberts, who live at Greenspring retirement community in Springfield, say they accomplished their goal through behavioral changes that included regular exercise and healthy eating habits.
"Once the resolution has been identified the first step is to consider ways to turn that good intention into action."
— Sue Franke, licensed clinical social worker
"The biggest change has been minimizing the quantity of food intake," said Clint Lambert, a retired psychiatric mental health clinical nurse specialist. "We were just eating too much."
Vickie Lambert, former dean and professor emerita of the Georgia Health Sciences University, College of Nursing, said, "It is nice to finally feel comfortable in our clothes and enjoy the positive comments from our friends."
Local fitness experts say the New Year is an ideal time to set and begin working to achieve fitness goals. Even those seniors with mobility issues can benefit from physical activities done in an upright position. "The activities must be done regularly and with a gradual increase in the amount of challenge, as you improve," said Rita Wong, P.T., professor of physical therapy at Marymount University. "Therefore, upright activities that are fun and will keep your interest are ideal."
To maximize success, experts say goals should be measurable, detailed and attainable. "Set small, realistic and concrete steps," said Maria Londono, a Chantilly resident and mental health therapist with Fairfax County Health Network in Alexandria, Reston and Falls Church.
Create a plan that includes strategies for dealing with the temptation to get off track. Boredom is a common detractor when it comes to exercise. Adding variety helps combat workout doldrums. "Switch up to include other activities like cycling, swimming or an aerobics-based class," said Michelle Walters-Edwards, Ph.D., professor of health and human performance at Marymount University in Arlington.
Develop a detailed strategy for achieving one's goal. The plan should include a method of tracking progress and recording successes as well as rewards for small achievements. "Once the resolution has been identified the first step is to consider ways to turn that good intention into action," said Springfield-based social worker Sue Franke, LCSW. "The next step is to do the habit consistently by setting goals, thinking about past successes, choosing a role model and above all staying positive."
Franke said that changing a habit requires doing it consistently for at least six months. "While six months seems like a long time, it takes that amount of stick-to-itiveness to really make the resolution a regular habit," she said.
Local fitness experts say the New Year is an ideal time to set and begin working to achieve fitness goals. "Consult your physician [and a] senior personal trainer before beginning an exercise program," said Juanita Kuntz, a Springfield-based wellness coordinator who specializes in fitness for the elderly. "Physicians will give you needed recommendations and restrictions to be used for your personal exercise program. A senior fitness professional is knowledgeable in functional limitations and possible chronic health conditions or impairments that senior adults may need to look out for."
To maximize success, experts say goals should be measurable, detailed and attainable. "Start slow, set reasonable goals and choose an activity you enjoy," said Kuntz, "If you actually enjoy something you are much more likely to get out of bed and do it. Don't expect to reach your goals instantly. Be patient with yourself."