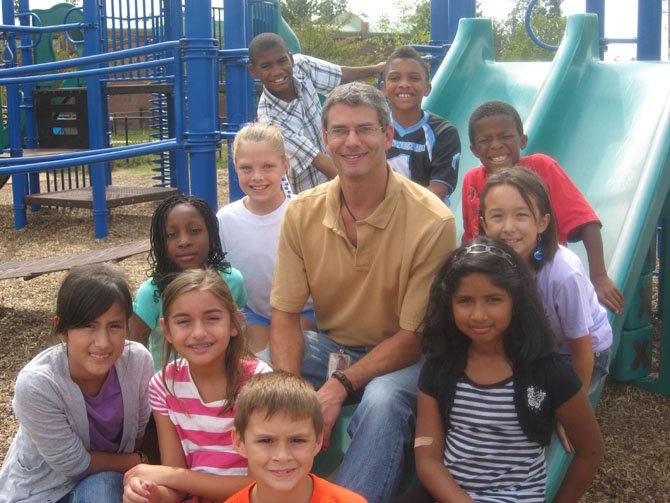 Centreville — A boyhood tragedy and its aftermath helped shape Lee Kaiser's life. It influenced him to become a school counselor, and he's held that job at Centreville Elementary for eight years.
He also does it quite well and was recently named Fairfax County Public Schools' Elementary School Counselor of the Year for 2011-12.
"I think he truly exemplifies the type of educators we have in Fairfax County who are catalysts for all the great thins we do for kids and for the entire school community," said Centreville Principal Dwayne Young. "For example, Lee recognized how to get community services into parents' hands in a way that's easily accessible. So while they attended our back-to-school picnic, they visited the service tables for the PTA, Scouts, library and SYA."
Young said Kaiser's focus on doing "what's right or the students and the members of this community never waivers. And the positive energy he brings to it makes the kids, community and staff want to be part of it — so they own it and it's not about him."
But things weren't always so sunny for Kaiser, who was raised in Hastings-on-Hudson, N.Y. "My father and 12-year-old sister were killed in a car accident in 1977 when I was 8," he said. "I escaped injury, but my mother was seriously injured. And in retrospect, I don't think I received all the counseling I could have gotten."
"I didn't have any real support or help to realize how my life had changed," continued Kaiser. "And as I got older, I realized how much a school counselor could have helped me. So I wanted to help kids deal with these obstacles in their lives a little easier."
Eventually, though, he was able to attend Camp Avoda, an all-summer-long, overnight camp in Middleboro, Mass. He went there from ages 10-21 and, later, served as the assistant director. Calling it "the greatest influence in my life," he said it was where he learned who he was.
"I was responsible for boys," said Kaiser. "Taking care of them, I developed a real desire to help kids achieve success and meet their goals." Additionally, when he was in middle school, high school and college, people often came to him for advice and told him he was a good listener. So he got a bachelor's in elementary education from State University of New York in Oswego. In 1999, he obtained a master's in counseling and development from GMU, and he's now in his 20th year in education.
"… he truly exemplifies the type of educators we have in Fairfax County who are catalysts for all the great thins we do for kids and for the entire school community." — Principal Dwayne Young
Kaiser taught sixth grade for seven years at Springfield Estates Elementary and spent five years counseling students in grades four through six at Kings Glen Elementary in Springfield. He'd been hired as a sixth-grade teacher at Kings Glen but, a couple days later, the school counselor left. Noting that Kaiser had just received his masters in that field, the principal asked if he'd like the job. And, said Kaiser, "I figured it was as good a time as any to give it a shot."
He also won some accolades. "At GMU, I was lucky enough to receive the award for graduate student of the year," he said. In 1993-94, he was nominated for first-year teacher of the year; and in 2002, he was also a nominee for teacher of the year.
"I like to motivate kids," said Kaiser, now 43. "My philosophy of life is to have a positive mental attitude. I'd like to change the school counselors' title to promoters of positivity. No matter where kids are in their lives or what they're dealing with, the goal is to get them back to a positive place."
Fellow counselor at Centreville, Esther Kang, was the person who nominated him for Counselor of the Year. Then Kaiser had to submit paperwork, recommendations and an essay explaining what he'd done at the school. FCPS has about 150 elementary-school counselors and, at their yearly meeting just prior to the start of school, Kaiser received his honor. But he didn't know about it until then so, he said, "I was surprised, as well as humbled and appreciative."
He and his wife Nadine have lived in Centreville about 15 years and are the parents of three daughters. Zoe, 11, is a sixth-grader and SCA president at Centreville Elementary, Carson, 9, is a fourth-grader there and Lindsey is 2. So the day he received his award, he bought flowers for his family and took them out to dinner.
"They know how much I put into the job," said Kaiser. "Sometimes my older daughters have to wait for me to take them home after school, but I need to set an example of a good work ethic. My family understands me and knows how important it is for me to give back. And I wanted to let them know I appreciated their support."