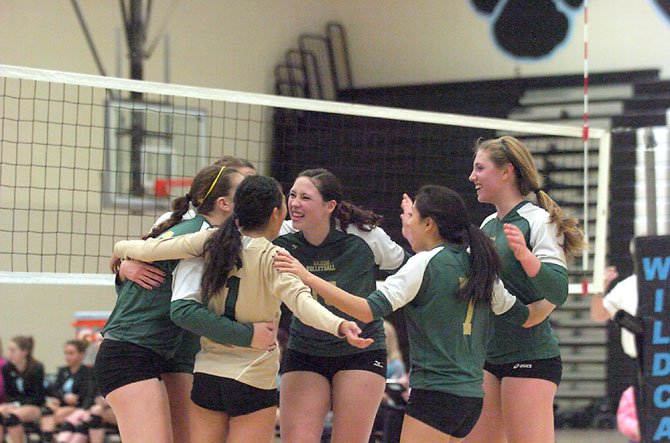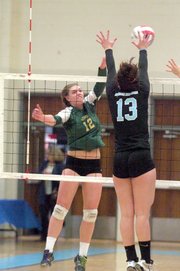 Centreville — The Langley volleyball program has been one of the best in the Northern Region in recent years and the 2012 team figured to be strong, as well. But after a 5-1 start, the Saxons received a wake-up call.
Langley lost its Liberty District opener to South Lakes, 3-1, on Sept. 6. Saxons head coach Susan Shifflett believes it was the first time South Lakes had ever defeated Langley.
"I feel like [the loss to South Lakes] was such a beneficial thing for us," Langley senior setter Jenna Dean said recently. "Even though it was a loss on our record in a district game, we fought after that. … We came into the season knowing that we were going to be pretty good and I feel that loss really put us in our place. We need to work. Talent doesn't get you anywhere unless you put it out there."
Four days later, Langley dropped its next match against Potomac Falls, 3-1. From that point, however, the Saxons won 19 of their next 20 matches, including a victory against Fairfax for the Liberty District championship on Nov. 3, and a come-from-behind win against Madison in the Northern Region semifinals on Nov. 8 at Centreville High School.
THE DISTRICT TITLE was Langley's first since 2007, the year the Saxons finished state runner-up. Langley had finished district runner-up to Stone Bridge each of the last four seasons, but the Saxons didn't get a chance for another rematch as the Bulldogs lost to Fairfax in the district semifinals. Langley defeated Stone Bridge, 3-2, in the regular season finale on Oct. 25.
On Nov. 10, however, Stone Bridge returned the favor, beating Langley, 3-1 (25-18, 23-25, 26-24, 25-11), in the region final at Centreville. The Saxons' season continued, though, as the semifinal win against Madison meant Langley had secured a berth in the state tournament.
"I feel like [the loss to South Lakes] was such a beneficial thing for us. Even though it was a loss on our record in a district game, we fought after that."

--- Langley senior setter Jenna Dean
Langley traveled to Roanoke and defeated Patrick Henry, 3-1, on Tuesday in the state quarterfinals. The Saxons will face Kellam in the semifinals at 7 p.m. on Thursday, Nov. 15 at VCU's Siegel Center.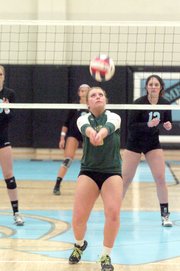 "We're considered the underdog," Dean said. "However, we don't consider ourselves the underdog. Our team is so cohesive and so functional, it's stuff that other teams don't have."
In the region final against Stone Bridge, junior Alex Andrejev and sophomore Rachel Andrejev each had 11 kills for Langley. Freshman Jessica Donaldson had nine kills.
Alex Andrejev is a first-team All-Northern Region selection who recently committed to Columbia University.
"She's our stud," Shifflett said.
The Langley coach also praised the performance of Rachel Andrejev and Donaldson against Stone Bridge.
"You've really got to hand it to them that they both stepped up and really went for it," she said. "They didn't hide from the challenge. I'm really proud of how our young kids did."
Langley got off to a rough start, falling behind, 13-2, in the opening set before making things competitive.
"We've played this team before many times," Alex Andrejev said. "It was like the energy had to pick up and once we got the momentum back on our side, then we really started to [make] good plays and we were back in it."
After splitting the first two sets, Stone Bridge scored the final three points to secure the pivotal third set, 26-24, before cruising in the fourth set, 25-11.
"They're very resilient," Shifflett said about her players. "Jenna Dean is a little fireball of the group. She just keeps them positive and keeps them going."