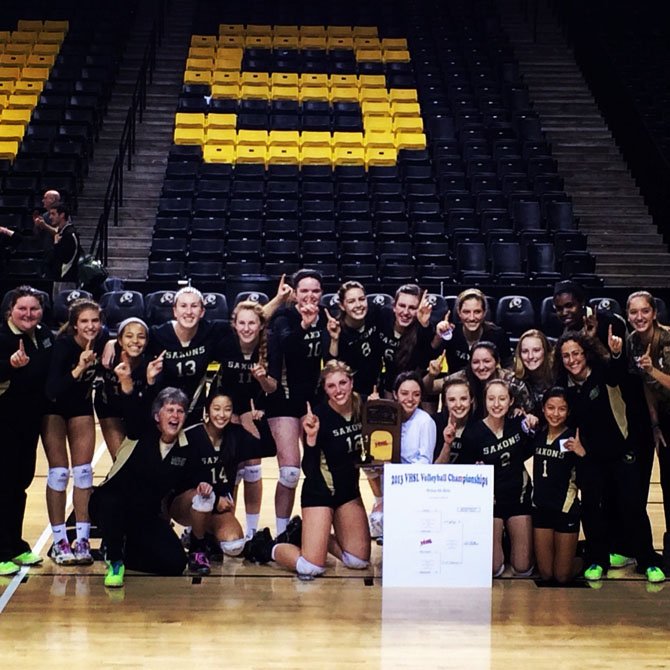 The year 2013 provided several exciting moments in local sports. For Langley, the volleyball team captured its first state championship, the girls' lacrosse team worked its way back to the state final and the football team had its best offensive season of all time.
Here is a look at the top moments in Great Falls/McLean sports for 2013.
Langley Volleyball Wins First State Championship
The Langley volleyball team reached the state tournament in 2012 and left with experience. The Saxons returned in 2013 and left with the program's first state championship.
The Saxons closed the season with a six-match winning streak, capped by a three-set victory against First Colonial in the state final on Nov. 23. Langley became the first volleyball team from the former Northern Region to win a state title and finished the year with a 27-3 record.
Langley head coach Susan Shifflett chose time spent together off the court as her fondest memory of winning states.
"We have had a lot of fun on the bus," Shifflett wrote in an email. "(I enjoyed) pregame and the moments after we won, like unveiling the banner (and) ordering our rings."
In 2012, Langley lost to Kellam in the state semifinals. In 2013, the Saxons took home the title. Along with team's accomplishment, senior setter and right-side hitter Alex Andrejev was named Gatorade Virginia Volleyball Player of the Year. She finished the season with 570 assists, 247 kills, 163 digs, 82 service aces and 53 blocks while hitting at a .465 clip. For her career, she totaled 2,044 assists and 794 kills.
"I think the fact that most of the players had been to states the year before helped a lot with preparation and the mental aspect of the game," Shifflett wrote. "Obviously, we were very talented, as well. First time I have ever had two outstanding outside hitters (Jessica Donaldson and Rachel Andrejev). Sisi Holderman (libero) really stepped the second half of the season. And of course, there is Alex. That helps a lot."
Yorktown upset Langley in the Conference 6 tournament semifinals, but the Saxons responded by winning the 6A North region title, beating Osbourn Park in the final, before winning states.
"They also were able to stay focused as we made our final run through regionals and states," Shifflett wrote. "It was a very long season and that is probably the most difficult thing to do. We had our down moments but they always were able to re-group.
"My coaching staff had a lot to do with our success, as well. When you have five coaches, all on the same page, telling the players the same thing and working well together, that sends a positive vibe throughout. Plus, I learn things from them every day."
Lisa Scott, Michelle Bredehoft, Amy Dean and Megan Shifflett were the Langley assistant coaches.
Langley Girls' Lacrosse Reaches State Final, Again
For the Langley girls' lacrosse team, the 2013 season ended in a similar fashion to 2012: with a trip to the state championship game.
After finishing Northern Region runner-up, the Saxons defeated Western Albemarle 13-10 in the state quarterfinals and Loudoun Valley 12-4 in the semifinals and entered the state final on June 8 having won 12 of their last 14 games.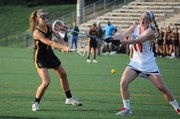 "My most vivid memory of being in a state championship game is the bigness of it all," former Langley head coach Richard DeSomma wrote in an email. "Nothing prepares you for that level. Even the regional playoffs and state games leading up to it, none are as unique as that one game. (You are) greeted at the bus by state organizers and given updates and instructions. A state soccer championship and state baseball championship being played as you arrive. Full stands of loud, non-stop cheering. Cameras, and reporters, and professional announcers, and four hand-picked officials. Unique unto itself would be accurate. Truly an electric atmosphere."
Unfortunately for the Saxons, their trip to the 2013 state final ended the way it had the year before: with a loss. Langley lost to Madison four times during the 2013 season --- in the regular season, in the Liberty District tournament final, in the region final and in the state final. In 2012, Langley lost to Oakton in the state final after falling to the Cougars in the regular season and the region final.
DeSomma, who is now the head coach at Hayfield, praised the Saxons.
"As I would always explain to sports writers, we had a group of girls who were passionate, competitive, motivated and had a love of lacrosse," he wrote. "They were hard working in the offseason and self-motivated. They had a great work ethic and had serious, focused, productive practices. We had great team-captain leadership. They were, in short, a delight to coach. I was very fortunate to be part of their lacrosse experience for nine years."
Langley Football Sets Program Scoring Record
The Langley football team in 2013 produced the most prolific offensive season in program history, scoring a record 481 points in 12 games. The Saxons averaged 40.1 points per contest, finished with a 9-3 record and ended their season with a 51-48 loss to Stonewall Jackson in the 6A North region quarterfinals.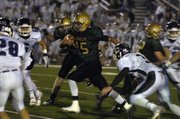 "The ability to score anytime you need it is a good feeling for a coach," Langley head coach John Howerton wrote in an email. "No matter if your defense/special teams are strong that night or not, when the opponent can't stop you, you know you can still win it."
Led by quarterback Nick Casso, running back Tyler West and receiver Garrett Collier, Langley scored at least 28 points in all but one game, and scored at least 42 points in six games. The Saxons scored a season-high 62 points during a win against Thomas Jefferson on Oct. 25, and scored 56 against Marshall and South Lakes.
Along with potent skill-position players, the Saxons had a strong offensive line, led by 6-foot-4, 295-pound guard Brooks Norris and center Alex Kolencik.
The Saxons tied a program best with an 8-2 regular-season record and reached the playoffs for a program-record fourth consecutive season.
"The kids worked hard and enjoyed playing together and never made excuses," Howerton wrote. "They learned to become tough, that's what it takes to be successful."