On Saturday, Nov. 3, just days after Hurricane Sandy hit our region, Reston residents engaged in a dialogue at a forum titled "Is Your Neighborhood Ready for the Next Big Storm," held at Reston Community Center Lake Anne. The event was organized by Reston for a Lifetime with the support of Reston Community Center and Reston Citizens Association to help create awareness and a dialogue before the first big snowstorm hits our region.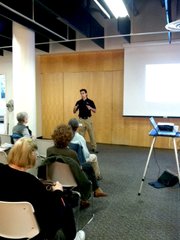 According to Reston for a Lifetime representative Steve Gurney, "our goal is to encourage neighborhoods to have a dialogue and begin to identify those who might be more vulnerable and those who are eager to help."
Marcelo Ferreira, community liaison with the Fairfax County Office of Emergency Management, provided attendees with countless resources including a variety of emergency alerts that are available to all residents, medical needs registries and suggestions for personally preparing for storms. He shared how essential it is for communities to work toward creating neighbors-helping-neighbors networks to support emergency staff and first responders.
The audience provided excellent examples of neighbor support systems throughout Reston. Cherie Lejeune provided a recap of the support provided at Lake Anne Fellowship House during the Derecho storm. In addition, several attendees shared how their clusters have created systems that make it easier for neighbors to connect socially that have proven invaluable during storms and emergencies.
Reston for a Lifetime is working on documenting the some of the best practices of Reston clusters and neighborhoods to encourage better neighborhood connections through case studies and video. Visit www.restonforalifetime.org for updates or if you would like to share a story of how your neighborhood has created a system to connect.