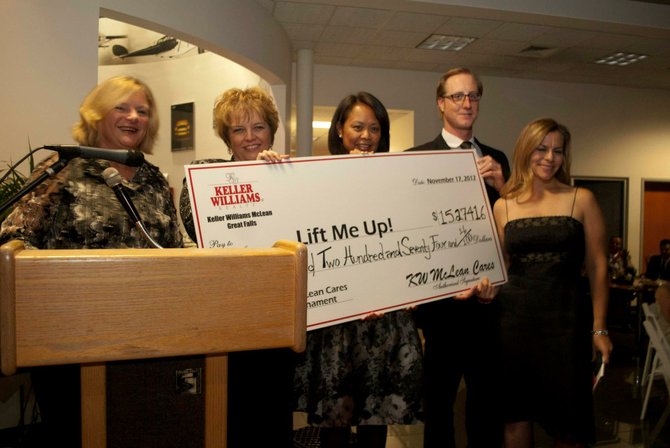 A check of $15,274.16 was presented to Lift Me Up! at their annual Gala held on Nov. 17, at BMW of Sterling. The money raised was from the 3rd annual McLean-Great Falls Keller Williams Cares charity golf tournament.
In the photo from left to right: Karen Briscoe who is an LMU! board member and principal Realtor® of the Huckaby Briscoe Conroy Realty Group; Kay Bellhouse who is the team leader for the McLean-Great Falls Keller Williams offices; MJ Perry who was the co-chair of the golf tournament and a Realtor®; Derek Blain who is one of the co-principals of the McLean-Great Falls KW office; Jennifer Lucier who is the president of LMU! The check was presented at the Lift Me Up! 'A Magical Night' Gala at BMW of Sterling on Saturday, Nov. 17, 2012.
BMW of Sterling was transformed from a car dealership to an exciting venue as gala attendees celebrated the theme, "A Magical Night." Thomas and Joyce Moorehead provided the gala setting.
McLean-Great Keller Williams Falls Cares held their third annual golf tournament on Oct. 22 at Trump-National Golf Course. Greeting players on the course was someone who looked very much like Austin Powers and the master of ceremonies of the evening event was a great stand-in for Donald Trump! All of this contributed to the event's success and allowed KW-Cares the opportunity to present big checks to the two charities selected by the McLean and Great Falls Keller Williams offices: Lift Me Up! and My Military Kids.
Lift Me Up! is a therapeutic horseback riding program that for 37 years has been dedicated to helping children and adults with physical, mental and/or emotional disabilities improve both their physical and mental well being. The annual gala is the primary fundraiser of the year. LMU! is a 501 (c) (3) charity and an NARHA Premier Accredited Center. For more information, visit www.liftmeup.org.
Community support is at the heart of the program's success. More than 300 volunteers comprised of area teens and adults assist the student riders and the North American Riding for the Handicapped Association, NARHA certified riding instructors. Lift Me Up! serves over 100 riders with special needs in ages ranging from age three to adult. B.I.T.S, which stands for Back in the Saddle, is the latest program offered by Lift Me Up! and was developed to assist wounded warrior riders from the military.