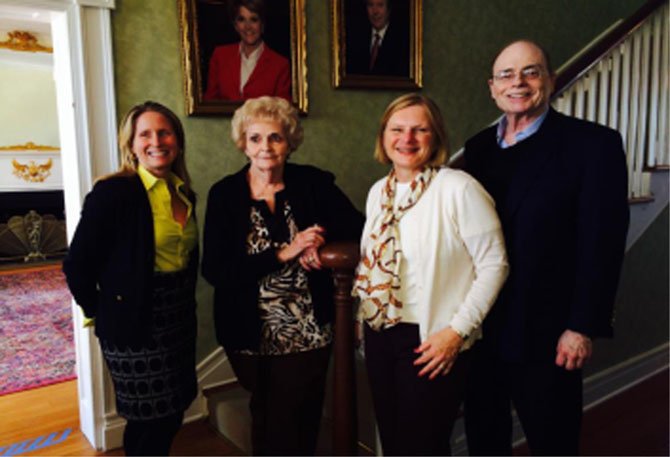 About Lift Me Up!
Lift Me Up! has provided thousands of therapeutic horseback riding lessons to children and adults with disabilities at its Great Falls stable since 1975. Just recently Lift Me Up! launched a new program for injured veterans called BITS (Back in the Saddle). Each week over 100 riders develop new riding skills that enhance their core strength, balance, coordination and confidence. Lift Me Up! trains volunteers age 14 and older to assist with the therapeutic riding lessons as sidewalkers and leaders. See http://www.liftme...">www.liftmeup.org for more information
A beautiful warm spring day set the backdrop for a successful day of tours of Cornwell Farm on March 8. The tours of the historic home and grounds generated over $3000 for Lift Me Up's "Good Fences" project. The Lift Me Up! door prize was won by Janice Thrush of Great Falls.
Ms. Thrush won a "Winner's Circle Package" from Lift Me Up! which includes a section of fence, a copy of Secretariat's Meadow, a Lift Me Up! hat/t-shirt and a Lift Me Up! calendar, a $200 value.
Visitors enjoyed meeting Carolyn Miller, a descendant of the Cornwell Family, and Great Falls Historical Society volunteer who provided a display of photographs of the farm and region over the years and a living history in the dining room of the home. The presence of the Great Falls Historical
Society, Kathleen Murphy and Carolyn Miller added to the event by providing answers to the questions of inquisitive visitors/area residents curious to know more about Great Falls and the property.
Lift Me Up! is reaching out to the community for support of their "Good fences make good neighbors" campaign to raise funds to replace old fencing. Secure fencing is essential to the safety of the horses and prevents them from visiting neighbors. A section of fence can be sponsored for $100, $150 with a commemorative plaque, which is tax-deductible. Visit www.liftmeup.org for more information.
Future Lift Me Up! events include a "Good Neighbors" Horse Show at Turner Farm May 10 and a dinner fundraising event sponsored by HBC Realty Group, at Pucinella's in McLean on June 10.