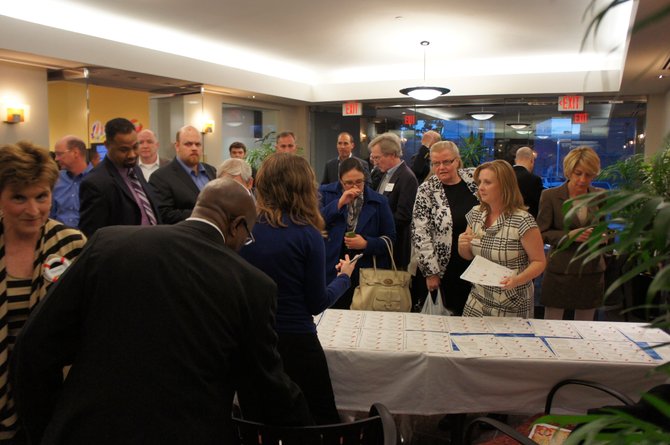 All throughout election season, the public was bombarded with ads criticizing the "other side" for being anti-small business, and not doing enough to encourage the growth of entrepreneurship. If the pols and pundits had bothered to cast an eye toward the City of Fairfax, they would have found the Mason Enterprise Center Fairfax (MECFairfax), a model incubator for the development and expansion of successful businesses.
The MECFairfax has been supporting and mentoring small business owners for more than 17 years. On Wednesday, Nov. 14, the staff hosted a well-attended ribbon cutting ceremony and open house to celebrate the recently completed remodeling and expansion of their facility at 4031 University Drive. The renovations began in May, doubling the size of the main conference room and adding updates like LCD monitors in all conference space, and additional copy/printing stations to the 29,000-plus square foot complex, which includes a professional reception area, 79 offices, an impressive mail room, and a variety of comfortable café and break spots.
Photo Gallery
Mason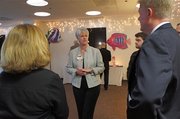 Click Photo for Flash
THE FIRST FLOOR is home to the center's main conference room, but also houses the offices of the George Mason University employees who operate the MECFairfax as well as the resources of an integrated network of programs like the Virginia Small Business Development Center, the Procurement Technical Assistance Program, the Mentor-Protégé Program, and the International Business Development Program. "There's a real brain trust within these walls," said Jody Keenan, managing director of the MEC in Fairfax. "And access to all these people and all these resources is readily available and included in the cost of office space rental here at the MEC." About 33 companies currently reside at the center, renting one or more office units; 51 companies are "virtual" tenants. "They may just need a physical address, someplace to send mail, along with access to our support personnel. They can use conference space or meet with clients here. Whatever they need," said Keenan. Hundreds have come through over the years. According to Keenan, the goal is to assist the fledgling company as it stabilizes and then grows. "Hopefully, they will outgrow us," admitted Keenan.
MediaForce, the PR firm that handled the press material for the MECFairfax's open house is one such graduate. "I started with one office here in 2005," said founder and President Robert Gaudian. "One day I looked around and realized we were kind of crammed in 11 offices. Time to move on. What a wonderful complaint." The perfect scenario, MediaForce is now located just two blocks away, keeping their business local.
Keith B. Segerson, executive director of the Mason Enterprise Center Network, which includes locations in Leesburg, Manassas, Spotsylvania, Springfield and Woodbridge in addition to the Fairfax center, opened the ribbon cutting ceremony. MECFairfax Director Judy Barral added her welcome to the assembly, and thanked all of the event's sponsors.
THE EVENING'S other distinguished speakers were Fairfax City Mayor Scott Silverthorne, and George Mason University President, Dr. Angel Cabrera. "The Kaufmann Foundation cites the Northern Virginia area as the best place for attracting and retaining entrepreneurs, " announced Dr. Cabrera to the cheers of this audience. "The University, and the Mason Enterprise Center, working with the City of Fairfax Economic Authority are major reasons why. Magic happens when you work together."