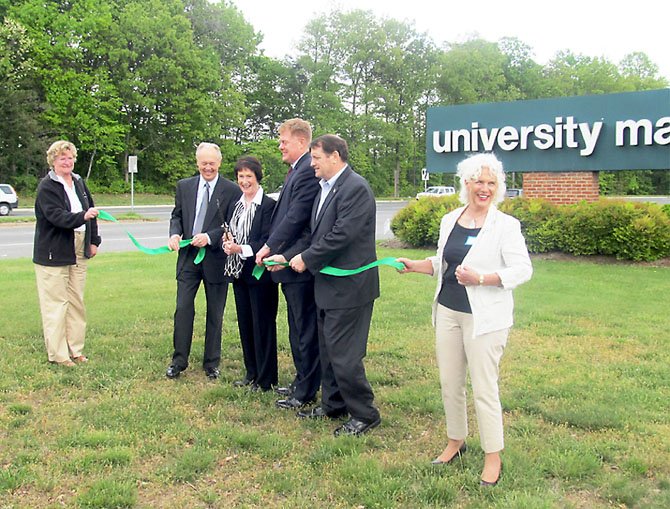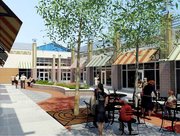 Fairfax — After five years of planning, shovels will be ready to hit the ground this June for the $30 million top-to-bottom transformation and expansion of the University Mall Shopping Center in Fairfax.
"Everything you see here today, every tree, every table, you will not see when it's done," said Richard Wolff, president and CEO of George H. Rucker Realty Corporation (GHRRC), owner of the mall, during a ribbon-cutting ceremony on Saturday, April 21.
"As people drive by next year, they're going to say 'Holy cow! That's a cool looking place.' It really is a complete transformation," Wolff added.
The 125,000 square-foot mall, built in 1978, will be converted from a series of interior-facing drab brown buildings to a 200,000 square-foot urban "streetscape" center, with an outdoor courtyard, striped awnings, and art deco architectural features, such as three lighted towers and sleek aluminum and glass storefronts.
"By right we could have done something double that size, but we wanted to keep it a community shopping center attractive to the neighborhood and GMU. It's going to look fabulous," Wolff said.
A white articulated roofline that meets "green" standards, as well as an aluminum parapet wall to screen mechanical units, will contribute to the overall aesthetics, Wolff said. And to enhance the feeling of being outdoors, the developer is adding an open courtyard with a fountain, covered tables, benches and trees.
Fairfax County Board of Supervisors Chairman Sharon Bulova (D-At-large), as well as Supervisors John Cook (R-Braddock) and Pat Herrity (R-Springfield) attended Saturday's event.
"In Fairfax County, our future is in redevelopment," said Bulova
"This project started before the recession, and now it's finally happening as we come out of the recession," said Cook. "Lots of good things are going to happen in this area, including the western bypass and other improvements in addition to the shopping center."
Located near the campus of George Mason University, between Ox Road and Braddock Road, the mall's main draw has been the University Mall Theaters, a second-run discount theater, and a hub of restaurants such as Fat Tuesday's, Café Ima, Brion's Grille and Saxby's Coffee house.
The aging Giant food store will almost double in size – from 36,000 square foot to 64,000 square feet when everything is expected to be complete in the fall of 2013.
"Giant is going to blow out the Ox road side of the store and add 28,000 square feet of space… Basically, it will rival any store Giant has in the area. People will be impressed," Wolff said.
Cliff Keenan, vice president of the Country Club View Civic Association – the 450-home neighborhood nearest to the University Mall - said the developer has addressed most of his and his neighbors' concerns, which included traffic congestion, light pollution and storm water detention.
"I think it's safe to say the entire community favors the re-development of University Mall…," said Keenan who has lived in Country Club View since 1978. "All in all, we look forward to this project finally moving to reality."
"If something doesn't work, we'll be there…We're a community developer; we see our projects through from development to management, and this will be an inviting retail center for shoppers and neighborhood residents," Wolff said.
In the coming months, residents will see demolition of one existing retail and office buildings, replaced by two new buildings - a 5,000-square-foot space for retail or restaurants and a 20,000-square-foot, two-story building dedicated to office space on the top floor, and a hardware center on the bottom.
Teddy Bear Day Care will move to a new 16,000 square foot office building, where Children's Medical Associates will be housed on the upper floor. The childcare center will also have 6,000 square feet of play area and a stockade fence for privacy. The developer is providing a 1,000-square-foot rent free community space.
Other leases that have been negotiated are for Wendy's fast food restaurant, a Verizon or T-Mobile store, Josie's Yogurt and a 6,000 square-foot Italian restaurant.
Herrity, who noted the center is home to his son's and daughter's pediatrician, said it's important to patronize the shopping center during the redevelopment.