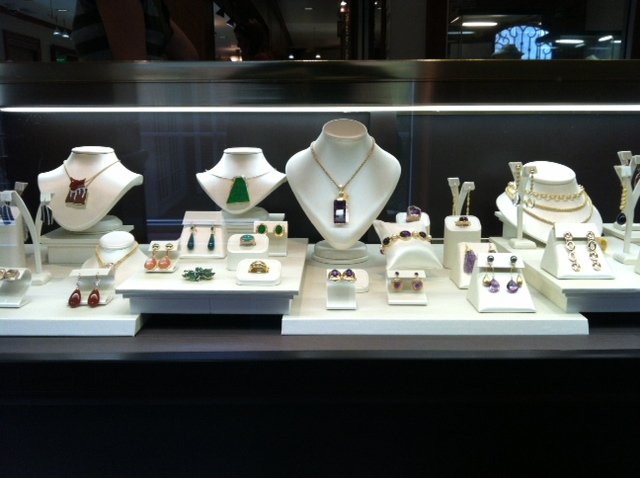 "I was buying britches, jodhpurs, Christmas presents, Breyers [horse toys], and stocking stuffers for our horse and ponies. [To stuff the stockings for the horses] we've got here some wonderful horse treats, mostly they're horse treats because that's what they like. I think with the space that they have there is something for everyone. There are really nice gifts that you can buy, lovely platters, all the horse essentials that you need, they do a little bit of everything."
-Judy Bishop, a shopper at the Saddlery
"[For the holidays people buy] Breyer horses, horse treats, jewelry, and clothing; fun clothing. I would want to buy clothing and jewelry."
Photo Gallery
Great Falls Gifts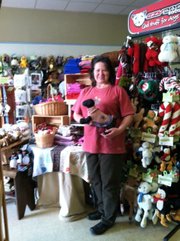 Click Photo for Flash
--Sue Kvasnicka, a salesperson at the Saddlery
"We have lots of Christmas toys and sweaters. A lot of people get beds for their dogs; beautiful, puffy beds that are soft and you'll end up putting your head on it! Then for people we have ornaments for the Christmas trees which are awesome. We have jackets and coats, and we get extremely busy at Christmastime because everybody wants to buy their dog something. And last but not least, we have tons of treats. Treats, treats, treats, treats! We get cute little special treats... at Christmas we have (treats shaped like) stars, and Christmas trees, and bells, and all kinds of things. Those are really fun to give as a gift when you go to somebody's house that has a dog, you can just take one of those and it's really very special. Everything in our store is all holistic, I mean these (treats) are basically oatmeal cookies that you can eat."
--Linda Waitkus, the proprietor at Great Dogs of Great Falls, LLC
"We find that typically, people tend to want to purchase items that are complementary to what the occasion is or what the person might have in their wardrobe. They might be finishing off a suit . . . they try and complete a set. If they are purchasing a piece of jewelry that is just a fashion piece of jewelry, then they might be looking to buy something the person can wear for everyday; for the office, for work, that they can get a lot of use out of . . . an everyday piece of jewelry. It tends to be a nice colored gemstone, or a unique piece of jewelry that is not necessarily as traditional, but maybe a piece that follows some of the upcoming colors and fashion trends. I find that colors tend to change, and that they are set annually. For instance, last year's color was tangerine tango and that was a big color. We're finding this year one of the colors that is very popular is an aqua color. Also, black and gold is very popular this year. That combination of black onyx and gold is very strong this year. So we're finding that it tends to follow the fashion."
-Wendy Adeler Hall at Adeler Jewelers, vice president of marketing