After the nerve-wracking U.S. election, we breathed a big sigh of relief that the country had not fallen into the hands of Mitt Romney and his Tea Party henchmen. Then, we traveled to Ireland for a relaxing discount holiday with friends. We returned just in time for the annual Lovaas family Thanksgiving dinner and the wonderful Reston Holiday Parade in Town Center on Black Friday.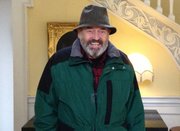 While in Ireland, the daylight hours were short and the damp, chilly weather left a lot to be desired. The welcoming Irish folks we met greeted us with warmth like long-time friends and brightened every day. The castles and ruins of ancient civilizations in County Meath and the waterfalls and scenery in the Wicklow Mountains provided fascinating activity and lots of photo ops during the short days. After a day of sightseeing, we typically went to a pub in the little town of Enfield near our lodging for dinner and conversation with fellow pubbers over a pint of Guinness or Smithwicks next to the welcome heat of a fireplace.
The folks we met shared our satisfaction with the re-election of President Obama, but recognized that he had difficult times ahead with the likelihood of a continued dysfunctional legislature. They were rightly more concerned with their own version of the fiscal cliff as their government prepared to announce its new budget in early December, one that will likely impose more austerity in the teeth of an unemployment rate of nearly 15 percent. For the first time ever, I saw a few people sleeping on the streets in Dublin.
Furthermore, the attention of the Irish media and women in particular—including thousands we saw marching through Dublin—was riveted on the tragic death of a young Indian woman who died of complications of a miscarriage when doctors refused to perform an abortion that could have saved her life. Their reason, they said, was that the Irish law barring abortions was unclear as to their liability for performing one. Reproductive rights are a growing issue in Ireland.
To relieve the air of gloom, there was a typically Irish story circulating in the media. It reported that former President Bill Clinton would soon visit Ireland and that he was likely to be coming to live in his ancestral country as the new U.S. Ambassador to Ireland! The basis for the story was unclear, so we'll have to check with our own secretary of state for verification.