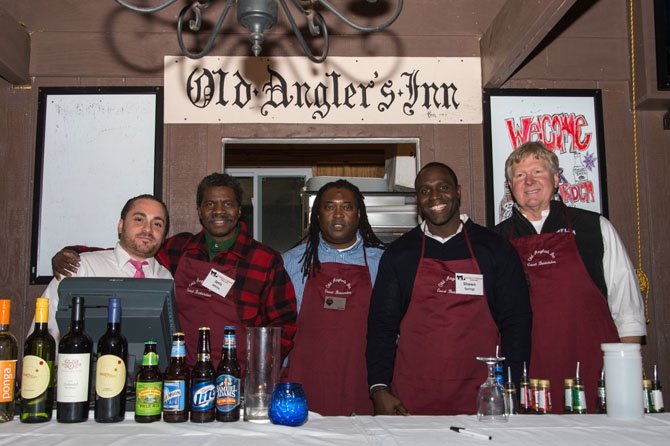 Potomac — Despite chilly temperatures, warm hearts gathered at Old Angler's Inn on Monday, Nov. 5 to raise awareness and support for SCORE (Safe Concussion Outcome Recovery and Education Program) located at Children's National Medical Center.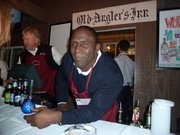 "Celebrity Bartender and Waiter Night" featured NFL football players, Steve Largent, Shawn Springs, John "Boomer" Stufflebeem, Jeris White and Ricky Ray, the Red Rockers from the Washington Capitals Dr. Gerry Gioia, chief of the SCORE Concussion Program and Dr. Roger Packer, chief of Neuroscience and Behavioral Medicine. More than 130 people attended the standing-room only event.
"Help Knock-Out Concussions for Kids" is one of the goals of the SCORE program. According to the website, www.children'snational.org/score/, "the SCORE multidisciplinary team is staffed by neuropsychologists, neurologists, neurosurgeons, behavioral medicine specialists, sleep medicine specialists, neuro-ophthalmologists, physical therapists and athletic trainers who specialize in the precise identification, monitoring and management of children, adolescents and college student-athletes, ages 4-22, who have sustained a concussion. This program is one of the only programs in the Baltimore/Washington region that specializes in the evaluation and management of traumatic brain injury (TBI) and sports concussions in children and teenagers."
Gioia discussed the importance of the SCORE program: "We offer education to parents, coaches, trainers, schools and other medical care providers on the best prevention techniques as well as the proper care and response when a concussion occurs. This year, we are also providing skill training for coaches and officials using the Concussion Recognition and Response Smartphone app. Our mission is to do the best we can to prevent concussions and to make the community understand brain injuries and treat them early."
According to the Center for Disease Control, nearly 1.5 million head injuries occur in the U.S. each year and more than 62,000 concussions take place each year in high-school contact sports. The signs and symptoms of a concussion are often varied and may show up right after an injury or may not appear until hours or days after the injury. Appearing dazed or stunned, unable to recall events, headaches or pressure in the head, nausea, balance problems or dizziness, blurry or double vision, difficulty concentrating, sleeping more or less than usual, sadness, depression, numbness or tingling — or just not feeling "right" are all signs that should be checked out immediately. Suffering a second concussion while still having symptoms from a previous concussion can be lethal.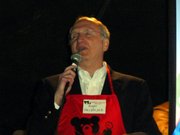 Hall of Fame Wide Receiver and Seattle Seahawk Steve Largent is a strong supporter of SCORE: "I have had many concussions and I am still in a study of players with concussions. I also work with the Wounded Warrior population. Many former NFL players sustain mental illness, ALS, chronic neuropathy dementia and depression from their football concussions. Every athlete needs to be made more aware of the long-term effects of concussions — particularly multiple ones."
Jeris White and Ricky Ray echoed his comments. "We all need the right answers," said White.
High school student Michael Cerner was injured in a snowboarding accident. He explained how his injury affected him: "I had no memory of what happened. I woke up in a hospital in Park City and they told me to go back to our hotel, sit in a dark room, don't sleep, don't think and wake up every three hours. When I returned home, I still could not remember anything from before the accident, which made it difficult to attend school. Dr. Gioia talked to my school and helped work things out. I have gradually gotten better, although it's difficult to know what I can and cannot do. Some days I feel good, and others I don't. It's like an invisible injury, because your teachers and friends don't necessarily believe that you really have something wrong with you. I do plan to return to snowboarding."
The SCORE program provides pre-injury baseline cognitive testing, immediate examinations, assessments, treatments and follow-up care. Children's National Medical Center is located at 111 Michigan Avenue NW in Washington D.C. The Neuropsychology Regional Outpatient Center is located at 15245 Shady Grove Road, Suite 350 in Rockville. For appointments, call 202-476-2420. For more information, call 301-765-5458.