Fairfax County — As Fairfax County has experienced massive growth in its international population, its effects have spread to its educational institutions. Forty-four percent of the Fairfax County Public Schools students come from homes that speak a language other than English, which includes 160 different languages.
In 2006, the county came up with the goal to eventually have all graduates be able to communicate in two languages. The county currently offers 11 different languages.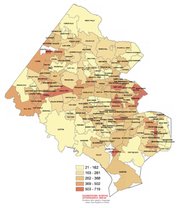 "We highly value the diversity of our population, because it's advantageous for our students to grow up here, as global citizens," said Teddi Predaris, director of the county's Office of Language Acquisition. "We believe it's a huge asset for our students in their future endeavors."
Approximately 28 percent of the county's current population are foreign born, with Spanish, Korean, Vietnamese, Arabic, Urdu and Chinese/Mandarin being the most common languages spoken in the homes of elementary school students.
The county's kindergarten two-way immersion program is one method used by schools to take advantage of increasing diversity. Half of the program consists of English speakers and half speak the immersion language.
"In this program, the teachers and students are language models for each other, and they spend half the day working at each language," Predaris said. "Our criteria for adding these programs is having a large enough population of the non-English speaking group to make a 50-50 mix possible. This is one of the models we hope to expand in coming years."
The county has five Spanish kindergarten two-way immersion programs, at Bailey's, Braddock, Lake Anne, London Towne and Rose Hill Elementary Schools. New this year is a Korean two-way immersion school at Colin Powell Elementary School in Centreville.
THE PROGRAM AT COLIN POWELL was designed to take advantage of the area's large Korean population. The Korean students who are in the program all could speak a little English
"The program is a niche that fits very well in our community. For the native English speakers, it helps them understand more about the culture of the people they share the community with every day. It gives everyone more understanding of the people that walk through our doors every day," said Principal Linda Clifford. "Walking into a classroom the other day, I was amazed at how many non-Korean students were able to understand Korean very well."
Clifford said she hopes in future years that the school can expand the program beyond kindergarten, eventually to every grade at the school. The school also offers an after school program to all students who are interested in learning Korean, and they even have a pre-school program to teach immigrant families about school programs and other information they might not otherwise be familiar with before their children start school.
Students in the program at Bailey's Elementary take health, math and science in their native language. As a magnet school, students from across the county can apply, which the school uses mainly to fill its English-speaking requirement.
"The native Spanish speakers come to Bailey's with a wide range of English skills, depending on where they come from," said Assistant Principal Rachel Charlton. "Some come from very rural areas where they have little to no schooling. There's always a silent period in the beginning, but periods like lunch and recess allow the Spanish speakers to talk among themselves, which helps open them up. Children learn most of their language from each other, so having native speakers of both languages helps both groups immensely. Each group of native speakers gets to be the language role model for half a day, with the other students learning from them. It really boosts their confidence."
COUNTY SCHOOLS also feature immersion programs in Japanese, German and French at elementary and middle schools.
Another area of growth has been the county's English for Speakers of Other Languages program, which started 35 years ago with 300 students. Since then it has seen a steady increase, with 15,000 in fiscal year 2001 and 31,000 this year.
Janet Funk, principal of Gunston Elementary School in Lorton, where approximately 300 students come from a home where another language is spoken, says every day interaction with new cultures is an important part of early education.
"Interesting conversations can be heard in the lunchroom, especially when students from other countries bring their food from home. Children are very interested in bringing their favorite foods, which naturally flows to a discussion of traditions and celebrations," she said. "With these informal discussions, the students learn the importance of accepting classmates for who they are. This supports our goal of cultural acceptance and collaborative interaction among our school community."
But with such diversity comes challenges, especially when it comes to Standards of Learning tests.
"Classroom teachers and ESOL teachers work diligently to help the students learn the English language. Many of our students from other countries are still learning English and are reading below grade level expectations," Funk said. "These students receive reading instruction in the classroom setting and the ESOL classroom. They are receiving a 'double' dose of reading on a regularly scheduled basis. However, when it comes time to take the SOL tests, they are required to take the test on grade level in a language in which they are not proficient."
In Virginia, SOL tests must be taken in English, but in Texas, for example, standardized tests can be taken in Spanish.
CHANGES to the state's licensure requirements this year have also caused some difficulties. This year, the state-required teachers in elementary school programs do not only have to be licensed in their language, but also for elementary education.
"We've struggled this year due to the new requirement," Charlton said. "We've had to use some long term subs until as recently as two or three weeks ago before we had enough full time teachers that met qualifications. Now I think the universities are aware of the change, so it might be better in future years, but it can definitely make it difficult to find people."