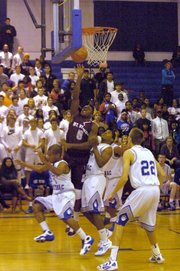 Mount Vernon — Second-year Mount Vernon head boys' basketball coach John Wiley stood outside the visiting locker room at West Potomac High School on Tuesday night and said it takes three years to build a successful program.
Last season, Wiley's first with Mount Vernon after coaching at Bowie High School in Maryland, the Majors lost nearly twice as many games as they won.
"I'm in my second year. This year is going to be better than last year," Wiley said. "By my third year, I want to contend with the top teams in the area."
Whether Mount Vernon once again becomes one of the top teams in Northern Virginia will be determined in time. Meanwhile, Wiley's quest for improvement took a step in the right direction.
Mount Vernon defeated West Potomac, 63-59, in both teams' season opener on Nov. 27, giving the Majors their first win against the Wolverines since 2009. West Potomac point guard Brandon Pressley buried a runner with 3.1 seconds remaining, cutting Mount Vernon's lead to 61-59, but the Majors were able to run out the clock and junior forward Shawny Lovitt put the finishing touch on the victory with a layup at the buzzer.
"It feels great," Mount Vernon senior Robert Decardi-Nelson said after the win. "Finally beat West Potomac."
Mount Vernon trailed, 20-9, at the end of the first quarter, but battled back to tie the halftime score at 28-28. West Potomac held a 44-43 lead late in the third quarter when Mount Vernon junior guard Kwadwuo Diawuo came up with a steal, drove to the basket and scored on a tough layup, giving the Majors a 45-44 lead they would not relinquish.
A bucket by senior forward Don Smith gave Mount Vernon its largest lead of the night at 53-45 with less than four minutes remaining in the fourth quarter. West Potomac pulled to within one when Caleb Williams' three-point play cut the Majors' lead to 57-56 with 1:29 remaining, but the Wolverines couldn't complete the comeback.
"It feels great. Finally beat West Potomac."

— Mount Vernon senior Robert Decardi-Nelson
Decardi-Nelson, a 6-foot post player, scored nine points and grabbed 10 rebounds for the Majors.
"[I] work hard in the paint," Decardi-Nelson said. "I treat it like it's my house; I just protect it."
Diawuo scored eight points and played energized defense for the Majors.
"Those are my two captains: Robert Decardi-Nelson and Kwadwuo," Wiley said. "[They have] a lot of heart, a lot of hustle [and] a lot of passion."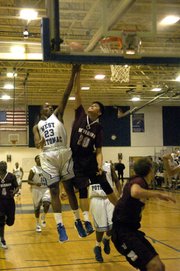 Bryce Washington led Mount Vernon with 13 points off the bench. The junior forward knocked down a pair of 3-pointers, the second giving the Majors a 48-44 lead early in the fourth quarter.
"It takes courage and knowing you can shoot the shot," Washington said about hitting perimeter shots in a low-scoring game. "I just have to knock it down."
Lovitt scored 10 points for Mount Vernon. Lucas and senior guard Patrick Bender each added nine. Bender knocked down a trio of 3-pointers.
Williams, a senior, led West Potomac with 17 points in his first varsity game. Pressley scored 16 points for the Wolverines and Kwame Camon added 11.
Six-foot-2 senior post Javon Trice scored 10 points and grabbed 11 rebounds for the Wolverines.
"I thought he played tremendous," West Potomac head coach David Houston III said about Trice. "[It was the] best I've seen him ever play."
West Potomac was without junior guard Demornay Pierson-El, who was injured. Houston III said he expects Pierson-El to return soon.
Mount Vernon will host Oakton at 7:30 p.m. on Tuesday, Dec. 4. West Potomac will travel to face Herndon at 7:30 p.m. on Friday, Nov. 30.
"Our goal at the end of the year is regional tournament, not … beat Mount Vernon," Houston III said. "… I think we're going to be a scrappy team that people are going to have a hard time against."