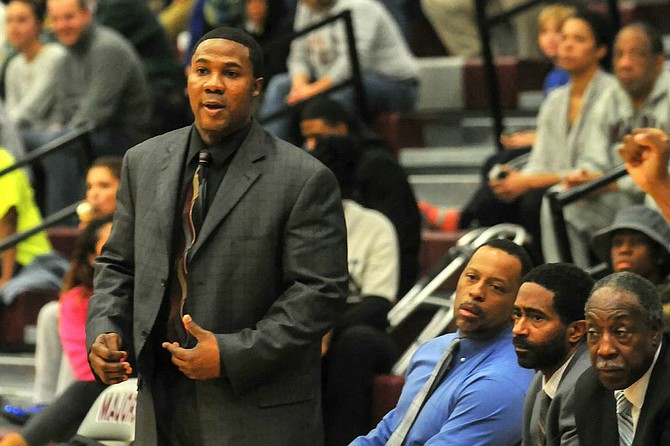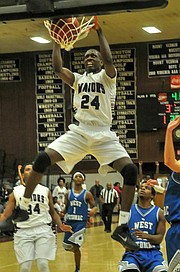 Mount Vernon senior Earnest Jones threw down a two-handed dunk midway through the first quarter of Tuesday's matchup with rival West Potomac, igniting the Majors' home crowd into a frenzy.
Jones again went above the rim in the second quarter, but this dunk attempt went awry, leading to a transition 3-pointer for West Potomac and a seven-point Wolverine lead.
The game would go to overtime and Jones, a senior captain, made the most of his final highlight opportunity.
Jones's dunk with 1:40 remaining in the extra period sparked an 8-0 run and the Mount Vernon boys' basketball team remained undefeated with a 72-63 victory over West Potomac.
"It's great to throw one down in front of the crowd," Jones said. "It felt pretty good. I was glad I was able to get the crowd hyped and my team hyped."
Along with his dunks, Jones, a 6-foot-5 forward, scored nine points during the fourth quarter and overtime. He finished with 14 points and five rebounds.
"[Jones] is our senior captain and we look to him for everything," Mount Vernon head coach John Wiley said. "... [Jones] is who we look to for guidance, leadership and today he came through and had some good drives and really picked us up with some nice dunks."
Mount Vernon appeared to have the game in hand during the fourth quarter, when a pair of Jones free throws gave the Majors a 55-48 lead with 32.6 seconds remaining.
The Wolverines, however, continued to battle.
West Potomac guard Chris Cheng buried his sixth 3-pointer of the evening, cutting Mount Vernon's lead to four with 21.5 seconds on the clock. After a Majors free throw, junior forward Jamie Sara scored for the Wolverines, cutting the deficit to three.
West Potomac stole the ensuing inbound pass and Andre Copeland went to the free-throw line with 6.4 seconds remaining. The senior bounced in the first attempt, but missed the second. The Wolverines grabbed the offensive rebound and missed a putback attempt, but Sara was there clean up, scoring on a putback to tie the game at 56 in the closing seconds.
"I give my kids credit," West Potomac head coach David Houston III said. "I told them we had no timeouts, what we needed to do to take it to overtime and we did exactly what I thought we could do — go to overtime. I think that once we went to overtime we exhaled, and that was a problem."
While the Wolverines exhaled, the Majors regrouped and took care of business after their fourth-quarter collapse. Mount Vernon struck first with a 3-pointer by Jason Konadu 16 seconds into the overtime period and led for the remainder of the contest.
"I was happy at the way we bounced back," Wiley said. "[We] came over to the bench, [I] had to pick them back up, then we went right out ... and pulled the game out."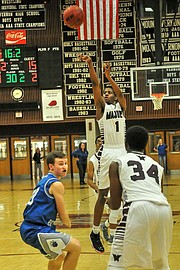 Senior forward Jason Banks came up clutch for Mount Vernon. After scoring three points in the first three quarters, Banks, a team captain, came up with 15 in the fourth quarter and overtime. He finished with a team-high 18 points, including 10 in OT.
"I just felt like I'm a captain on this team ... [and] I felt like I had to make these shots," Banks said. "I have a can't-lose mentality."
Junior forward Tarel Terry scored 15 points for Mount Vernon, including a trio of 3-pointers.
West Potomac had a pair of strong individual efforts go for naught. Cheng, a senior guard, knocked down six 3-pointers and scored a game-high 20 points. Sara, a 6-foot-4 forward, finished with 19 points and a game-high 17 rebounds.
"Chris shot the ball well," Houston said. "He's been doing that for a while. ... Jamie's really active."
Sophomore guard Khalil Williams Diggins scored 14 points for the Wolverines.
Mount Vernon improved to 3-0, including victories over Centreville and Hampton Christian. The Majors reached the National District championship game in 2013 and the Conference 13 final last season, and Wiley said they figure to compete with Wakefield and Edison for this year's conference crown.
Mount Vernon will travel to face Yorktown at 7:30 p.m. on Friday, Dec. 12.
West Potomac dropped to 1-3 and will host Chantilly at 7:30 p.m. on Friday.
"A month from now, we won't even look the same," Houston said. "A staple of my teams is we get better as the year goes on."