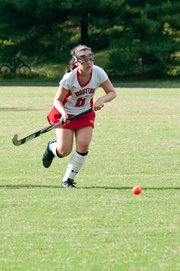 There are few rivalries in Montgomery County larger than the one between Wootton and Churchill. No matter the sport, no matter the year and no matter the circumstances, when these two schools play each other it is sure to be a meaningful game.
On Sept. 28, the Churchill Bulldogs played the Wootton Patriots in an exciting field hockey game at Wootton. Both teams came into the match with dominant seasons so far; Churchill with a 6-1 record and Wootton with a 6-0-1 mark.
According to Churchill coach Cay Miller, the Bulldogs have recognized that there is a different atmosphere when it comes to games against Wootton.
"As long as I've coached at Churchill, games against Wootton are always good ones," Miller said. "Regardless of either team's record in a given year, both teams match up very well. This year, it was important for us to come at this game as we would any other game against a good team."
At first, Churchill did exactly that, with senior Catherine Roberts scoring an early goal in the first half. According to Roberts, the team's pre-game preparations were a large factor in that quick first goal.
"We started the game after a very energetic warmup, coming out ready to fight," Roberts said. "[Churchill seniors] Jenn Shim, Alyssa Weiss and the rest of the starters moved the ball down the field quickly, earning us corners and a goal."
But the lead did not last for long, as Roberts' goal would be Churchill's last. The Patriots answered back quickly with their own goal seven minutes later, and twice more before the end of the game to secure a 3-1 victory.
The entirety of the Patriots' offense came from attacker Carly Pascal. The Wootton senior had all three of her team's goals, two in the first half and one in the second, and built a lead for Wootton that it wouldn't relinquish.
"It wasn't easy; their defense was really solid and tough," Pascal said. "We had some great plays and were able to break through their defense. We also took advantage of every opportunity available and fought for each goal."
According to Churchill senior Weiss, who has played on a club team with Pascal and against her in previous Churchill-Wootton matchups, she has grown to appreciate her opponent's skills around the net.
"Carly Pascal is definitely a good player and she's very handy in front of a net," Weiss said. "Every year she's helped Wootton with scoring — she's great at finishing."
These two teams last faced each other in the 2011 4A playoffs, where Wootton lost to Churchill to end the Patriots' season. The Bulldogs advanced to the region final, where they lost to Bethesda-Chevy Chase.
According to Pascal, making up for that playoff loss was on the minds of many Wootton players.
"This was one of the games that we really wanted to win," Pascal said. "Churchill beat us in the regular season and took us out of playoffs last year, so this game was super important to us. Everyone was invested in this game and nobody gave up. We didn't surrender anything; we left it all out on the field and went home with a win."
The Patriots were not the only team that was thinking of last season on Sept. 28. According to Weiss, the Bulldogs also wanted the win against their rival school.
"Both teams wanted it and I think we are very evenly matched, but Wootton really showed up and Churchill didn't the way we normally do," Weiss said. "It's an important win for them and they were really excited after the game."
The Bulldogs still have a winning record, and plan to go far in the playoffs. According to Coach Miller, the team will learn from the loss and use it to get better.
"Our team goal is to always improve," Miller said. "It's one thing to say you want to go far in the playoffs, but it's another thing to do the work necessary to get there. There are some solid teams in the 4A West so hopefully we can take Friday's loss as motivation to focus on our game."
Wootton will host Magruder at 3:30 p.m. on Thursday, Oct. 4. Churchill will travel to face Watkins Mill at 7 p.m. on Tuesday, Oct. 9.