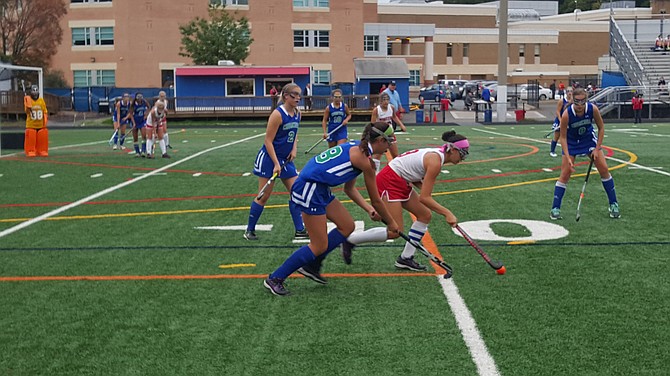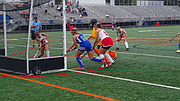 Wootton field hockey coach Kearney Blandamer addressed her team following Wednesday's home game before sharing her displeasure with a reporter.
Blandamer wasn't satisfied with the Patriots' performance. She praised the opponent, saying they "worked harder than we did." She said the Patriots are "struggling to find our intensity level."
"I didn't think this was our best effort," Blandamer said. "… The season is a long season and it's about learning. We learned today, I think, that we just have to work hard to make good things happen …"
By the way, Wootton won by three goals. Against its rival. In a battle for first place in the 4A South division.
The Patriots moved into sole possession of first place in the division by blanking Churchill 3-0 on Wednesday at Wootton High School. The Patriots improved to 8-1 overall, including 5-0 in 4A South. The Bulldogs dropped to 4-3, including 4-1 in the division.
Despite the lopsided victory, Blandamer and senior captain Marisa Morakis each said the Patriots have room for improvement. From 2012-2014, Wootton produced a 43-4-1 record and made a trio of deep postseason runs, advancing to the region championship game or further each season. In 2012, Wootton lost to Walter Johnson in double overtime in the region final. In 2013, the Patriots won the region championship and finished state runner-up. Last year, Wootton lost to Bethesda-Chevy Chase in overtime of the region title game.
The Patriots once again have high expectations.
"I think we could have worked harder," Morakis said. "We need to make sure we don't have the mentality of a winning team --- we need to know there's always stuff we can work on."
On Wednesday, Morakis assisted a goal by senior attacker Lacey Rubin during a corner with 13:22 remaining in the first half, giving Wootton a lead it wouldn't relinquish. Morakis extended the Patriots' lead to 2-0 with 17:23 left in the second half, scoring during a corner with an assist from fellow senior captain Rachel Maizel.
Morakis is committed to play field hockey at Bucknell University.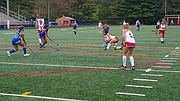 "One of the most exciting things about Marisa is she has this turbo gear that when a player is even with her or even a step or two ahead, it's not very long --- maybe five-to-10 yards --- where Marisa just kind of finds this extra gear and overtakes that player," Blandamer said. "She's very determined and she really expects more from herself than she does from anybody else. … She's one of the best players I've ever coached, and this is my 20th season."
Maizel, who will play for James Madison University, scored a goal with 8:10 remaining, giving Wootton a 3-0 lead.
Wootton's only loss of the season came against private school McDonogh, 5-4, during a tournament on Sept. 19. Later in the day, the Patriots responded with a 3-0 win over Chantilly, a Northern Virginia program that reached the state playoffs in 2014.
"If we're going to win states, if we're going to get to states, we need to be able to win those kind of games," Morakis said, "not games just in our county."
Churchill entered Wednesday's contest on a four-game win streak, including victories against B-CC (2-1 on Sept. 18) and Whitman (2-1 in OT on Sept. 28).
"We had some really hard games prior to this game," Churchill head coach Cay Miller said. "… We've had a string of tough games [where] we've come up on top, so the momentum [was] building … toward this game."
Wootton ended Churchill's momentum, handing the Bulldogs their most lopsided loss of the season. A bright spot for the Bulldogs, however, was the performance of senior goalkeeper Jennie Robinson, who finished with 12 saves.
"She stopped a lot of really solid opportunities that Wootton had," Miller said, "and I think the score would have been higher if she hadn't had such an outstanding game."
Churchill reached the region semifinals each of the last three seasons and finished region runner-up in 2011, but Miller said this year's team is inexperienced. Miller said midfielders Jocelyn Kelley, Madison Kanstoroom, Jenny Langerman and Regan Solomon have played well of late.
Next up for Churchill is a home game against Walter Johnson at 5:15 p.m. on Tuesday.
Wootton will host B-CC at 7:15 p.m. on Monday.
While Wednesday's performance left room for improvement for the Patriots, Morakis said she enjoyed beating the rival Bulldogs.
"We didn't really know what to expect," she said. "I was kind of nervous for this game, but it ended up being fine. We beat them every time. It feels good."
Not too much positivity, though. Wootton has work to do.
"Our expectation is to go as far as we can go," Blandamer said, "but I expect to be at Washington College in November" for the state championship game.