McLean — At one end of Langley High School's football field, Madison senior Ben Sanford used the words "unbelievable" and "crazy" describing the Warhawks' victory on Friday night. At the other end, Langley senior Philip Mun's moisture-filled eyes spoke volumes of the Saxons' disappointment.
Sanford snagged three interceptions, scored two touchdowns and the Saxons missed a potential game-tying field goal in the final minute as Madison beat Langley, 24-21, in a battle of one-loss Liberty District foes on Sept. 28.
The Saxons (3-2) had multiple opportunities to take control of the game, but came up empty on four of their seven trips inside the Madison 30-yard line. Langley rushed for 271 yards, including 221 from Mun, and had the ball on the Madison 11-yard line with a chance to win or tie late in the fourth quarter. But Madison (4-1) stayed in the game with big plays on defense and special teams and the Warhawks found a way to secure their fourth consecutive victory.
"It's just unbelievable," Sanford said. "We all put so much effort into this and it's crazy. It was close the whole game, so we had to stick in there."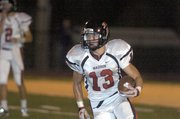 SANFORD WAS A MAJOR REASON Madison was able to "stick in there."
The 6-foot-1, 190-pound receiver/linebacker put Madison in front, 9-7, when he caught a 16-yard touchdown pass from quarterback Dan Powers with 5:56 remaining in the second quarter.
A 29-yard Mun touchdown run gave Langley the lead on its next possession. Later, the Saxons had a first down on the Madison 23 with less than a minute remaining in the first half. Sanford ended the threat when he intercepted a Langley pass in the end zone.
Madison wasn't out of the woods yet as the Warhawks lost a fumble on the next play, giving Langley the ball on the Madison 32 with 30.8 seconds remaining. Four plays later, Sanford intercepted a pass and returned it 88 yards along the left sideline for a touchdown on the final play of the first half.
Rather than facing a double-digit deficit, Madison held a 16-14 halftime lead.
"It came right to me," Sanford said of the pass he intercepted and returned for a touchdown. "I just thought it was an opportunity and I just took it down. I had some great blocks and I took it all the way to the house."
Sanford's third interception ended a Langley drive that reached Madison territory in the fourth quarter.
Madison's game-winning touchdown, a 3-yard run by Grant Hofmann with 7:29 left in the fourth, was set up by a 51-yard punt return by Jacob Hall. Later, Langley's special teams nearly sparked a Saxon comeback.
The Saxons saw it differently.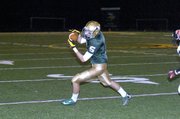 Langley head coach John Howerton said the game was "poorly run" by officials. He pointed out the Saxons made their share of mistakes, but he also voiced his displeasure with the way the game was called, especially the holding penalty that wiped out Mun's go-ahead touchdown.
"I hate to say that, but it was one of the worst I've ever been involved in in 28 years, it really was," Howerton said. "… For [Langley players] to battle the whole time like that and come back after making some bad blunders and come back and score to win, you don't take that away from kids."
Mun's teary eyes showed his frustration.
"It's so disappointing," he said. "We should have had this win. [There are] so many reasons why—just simple mistakes. For them to take that touchdown away at the end is just so upsetting.… We played much better than [Madison]. They only scored on our mistakes."
OVERSHADOWED BY THE LOSS was Mun's stellar effort on the ground. The 5-foot-9, 170-pound running back excelled in the Saxons' read-option offense, carrying 33 times for 221 yards and two touchdowns. He helped Langley get off to a strong start as the Saxons marched 80 yards in just four plays for a touchdown on the game's opening drive. Mun gained 15 yards on the game's first play. After a 16-yard run by quarterback Nick Casso, Mun had a 37-yard run before he scampered 12 yards into the end zone.
"He's a phenomenally tough kid, the way he works his tail off," Howerton said. "He does exactly what you tell him. He's not the biggest [or] fastest, but he's a strong kid for his size [and] he has very quick feet. He's been as tough as any back I've coached. I've had easily 20 kids run over 1,000 yards in my 28 years, but this kid is as rugged as any of them [or] more so."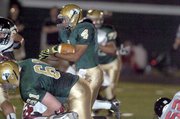 Howerton also said 6-foot-2, 320-pound right guard Jack Howerton and 6-foot-3, 220-pound H-back Philip Novacki give Langley an advantage against opponents in the ground game.
Casso carried 10 times for 50 yards and a touchdown. He completed 7 of 15 passes for 103 yards.
Seven Madison ball carriers combined to rush 23 times for 88 yards and a touchdown. Powers completed 7 of 17 passes for 134 yards and a score.
MADISON HAS WON FOUR STRAIGHT, beating Woodson, Hayfield, McLean and Langley since losing its opener to Oakton. The Warhawks, who are 2-0 in the Liberty District, will host Thomas Jefferson at 7:30 p.m. on Friday, Oct. 5.
Langley's two losses are by a combined four points. The Saxons opened the season with wins against Herndon and Thomas Jefferson before suffering a 35-34 loss against Chantilly. Langley responded with a 58-8 win against Marshall before losing to Madison. The Saxons, who are 2-1 in the district, will travel to face Stone Bridge at 7:30 p.m. on Friday.
More like this story