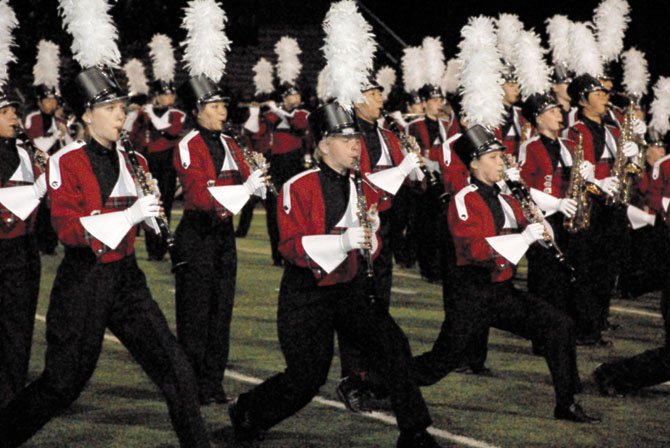 The stadium at Herndon High was packed Saturday with friends and family attending the 16th Annual Virginia's Showcase of Bands. Twenty-six high school marching bands from across northern Virginia and Maryland competed throughout the day Saturday, with the larger bands performing Saturday evening. Performances began at 10:45 Saturday morning and continued until 8:30 Saturday night.
"A lot of people associate marching bands as the half time show at football games, but Saturday competitions such as this one are the main event for us," said Kathleen Jacoby, director of bands at Herndon High.
Marching bands are divided into classes based on size. Bands in classes two through six competed against each other Saturday. Herndon High, with 120 members, is a Class V Band. As the host school, Herndon High did not compete, but was able to perform in exhibition. Herndon High partnered with the United States Bands, a national organization which provides support and adjudication to high school marching bands, to host the competition.
THE MARCHING BAND SEASON starts in August, four weeks before the start of school. Band members spend hours practicing and drilling together in school parking lots and on practice fields. Throughout the fall marching bands gather and compete. Saturday's competition at Herndon was early in the marching band season; for many of the high schools this was their first competition of the year. Herndon High participated in a competition last week in Winchester, Va. and are preparing for a competition at James Madison University in a couple of weeks.
"For many bands, this is their first weekend out. A lot of bands are working through performance nerves. As expected schools from northern Virginia are doing a phenomenal job," said Jacoby during Saturday's competition. "This is one of the few times we get to see so many schools from our area together. We get see how we stack up against other schools from the area."
Each marching band selects a theme and a repertoire for the year. Herndon's theme this year is "Songs from the Northern Seas" and includes songs from the soundtracks of Riverdance, Lord of the Rings and How to Train Your Dragon.
"At the end of last season, several band members were constantly playing the soundtrack for 'How to Train Your Dragon.' When I finally realized what they were doing, they told me that they were subliminally trying to get me to choose that soundtrack as this year's theme. The more I listened to the music, the more I realized those songs are meant to be a marching band show," said Jacoby.
This is Jacoby's fifth year at Herndon as the band director. "This is absolutely the best band since I have been here. The kids are so enthusiastic, well-disciplined and motivated," said Jacoby.
Junior Blake Morgan, drum major, said that being in band is a great experience. "The skills we learn from band are great. I'm passionate about music and this is a good experience." This is Morgan's third year with the band.
Freshman Abby Witmer, a clarinet player, said that a lot of her friends were in band and it seemed like a lot of fun, so she decided to join this year.
HERNDON HIGH'S BAND played last Saturday evening. Following Herndon's performance, winners in each class were announced. Herndon's drum majors along with visiting dignitaries including Delegate Tom Rust, Fairfax County School Board member Jane Strauss, Supervisor John Faust and Herndon Town Council representative Melissa Jonas presented trophies to the bands. In the largest band size class, Class VI, Fairfax High School placed first, Mclean High placed second, Chantilly placed third, and Westfield and Woodson placed fourth and fifth respectively.