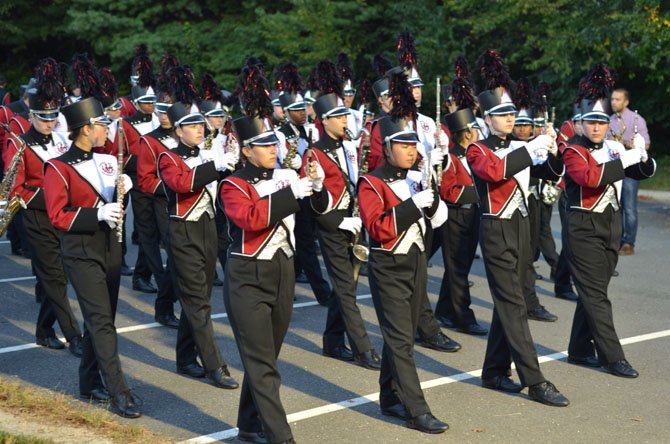 On Sept. 27, Herndon High hosted the Northern Virginia Regional Showcase of Bands, an opportunity for 28 local high school marching bands to display their skills and abilities. The showcase featured high school marching bands from throughout the region, presenting their field shows, in which the bands march and make formations on the field while playing music. Each band competed with other bands of similar size in different categories.

The highest scoring bands were recognized with trophies during the awards ceremonies which took place at 3 p.m. and 9 p.m. Local high school bands included Westfield, Chantilly, Fairfax, Freedom, Herndon, West Potomac, Park View, Broad Run, Falls Church, West Springfield, James Wood, Dominion, Yorktown, Stone Bridge, John Champe, Hayfield, South County, Marshall, and Wakefield.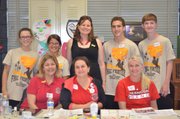 This event was hosted by the Herndon High School Band Parents Association in partnership with USBands. As Herndon High was hosting the event, the band did not compete but did have a field show by exhibition. This year the theme was "Final Frontier" with a cross between western themes and outer space. "We have a lot more bands participating this year," said Herndon High junior Simon Fogleson, member of the Herndon band. In 2013, 16 bands participated in the Northern Virginia Regional Showcase of Bands
Helping with operations were armies of volunteers. One of them was Ginger O'Rourke, mother to Herndon High student and band member Tiernan O'Rourke. "This year it is a real visual show," said O'Rourke. "My husband loves the music this year." Herndon's 2014 Marching Band show, the Final Frontier, included selections from: "When You Wish Upon a Star," "Magnificent Seven," "The Good The Bad & The Ugly," "Cantina Band," "Ashokan Farewell," "Jupiter" (from The Planets), and "How the West Was Won." Kathleen Jacoby is conducting her seventh show as the HHS band director.
"I cannot emphasize how much I think bands influence young leaders," said Herndon resident Melissa Jonas, who is also a band parent.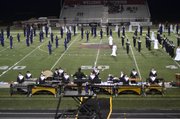 In addition to competing for recognition and trophies, the Showcase of Bands is an opportunity to review techniques and methods of different marching bands. The Arlington Yorktown High School marching band almost missed out on their opportunity to perform as one of the two buses transporting the band suddenly broke down. Nevertheless, the Yorktown Marching Patriots received honors for Best Overall Effect and Percussion in their league. Hard work paid off for the Fairfax High School Marching Rebels as they captured First Place in "Group VI Open" with a score of 80.050 winning all captions: Best Music, Best Visual, Best Percussion, Best Color Guard and Best Overall Effect.
Kathleen Jacoby, director of band at Herndon High School and Herndon High Principal William Bates welcomed guests and visitors and thanked the dedicated parents who spent hours of support to their children so they could be part of a quality organization. "It is a beautiful day, it is a wonderful event for community and we are proud of Herndon," said Bates.
Show coordinator Kenneth Phillips helped made sure operations ran smoothly. "The people hosting it here have been doing it so well for so long," said Phillips. The HHS Marching Band will perform again before the games and during half time at Herndon's home football games. Upcoming Herndon home games will be Oct. 24 and 31. The Herndon High Band web page is herndonband.net.
Winners of the 2014 Northern Virginia Showcase Of Bands
Group I A - Wakefield HS
Group II A - Stonewall Jackson HS
Group III A - Woodgrove HS
Group IV A - Dominion HS
Group V A - John Champe HS
Group II Open - Turner Ashby HS
Group III Open - South County HS
Group IV Open - Freedom HS
Group VI Open - Fairfax HS
2014 Herndon Band Events
Saturday, Oct. 4 – Loudoun Valley Competition
Saturday, Oct. 11 – Homecoming Parade & Game
Saturday, Oct. 18 – Parade of Champions at JMU
Friday, Oct. 24 – Home Football Game
Saturday, Oct. 25 – VBODA Marching Festival
Friday, Oct. 31 – Home Football Game