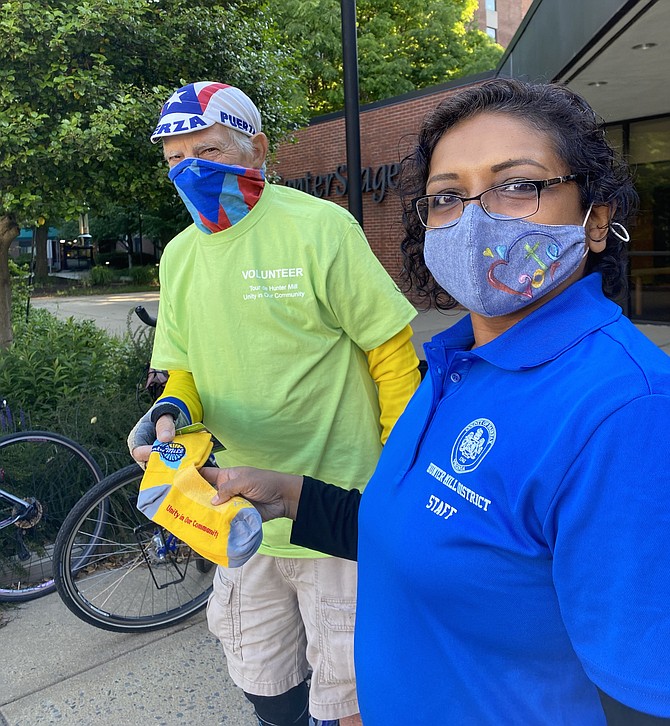 Cyclists of all abilities gathered early Saturday morning, May 15, at Reston Community Center for the inaugural Tour de Hunter Mill. Organized by the Hunter Mill District, Fairfax Alliance for Better Bicycling (FABB), and Reston Bike Club (RBC), the event showcased "Unity in our Community."
Gulu Gambhir and Rhonda Van Diest of Vienna readied themselves for the ride and appeared delighted to be there. "I'm super excited to join everyone on this beautiful day for this bike ride through the Hunter Mill area," said Gambhir.
"We think this is a great way to celebrate the end of the pandemic lockdown. Today's our day to go out and play and enjoy being with other people...This is the first time we've ever done this. We've never done organized riding ever together," added Van Diest.
Supervisor Walter L. Alcorn (D-Hunter Mill District) welcomed riders, including Supervisor Dan Storck (D-Mount Vernon District) and Chairman of the Board of Supervisors, Jeffrey C. McKay (D- At-Large) to the "first-ever Tour de Hunter Mill.
"Some of you may know that every year there is a Tour de Mount Vernon. "Okay, so we borrowed the idea. This is not completely an original thought," said Alcorn. "Chairman of the Board of Supervisors, Jeff McKay is also here. I have to say that actually before there was a tour to Mount Vernon, there was a Tour de Lee District when he [McKay] was the district supervisor. So, thank you for starting the tradition."
According to McKay, in 2014, as the Lee District Supervisor, he brought a Board Matter before the Supervisors to create the first-ever Bicycle Master Plan for all of Fairfax County. He said, "This is exactly the reason why we needed that because what frustrated me is that most people in the County didn't know all the awesome biking opportunities that existed in Fairfax County. And because they didn't know them, they weren't trying [them out]."
McKay added that the County wasn't learning where trail extensions were needed to complete a bicycling network." We're making progress on that...making Fairfax County a much more safe, pedestrian and bicycle-friendly community," he said.
Jeff Gauger of Alexandria is Vice President of Fairfax Alliance for Better Bicycling (FABB). Gauger said he would serve as one of the many ride marshals. "I just want to make sure that everything's okay on the ride if anyone's pulled over with a flat tire or something," he said.
Cyclists set off together on mapped adventures of 5-, 15-, and 20-mile routes, discovering or revisiting the many hidden treasures, cultural and environmental resources in the Reston-Vienna areas in the Hunter Mill District of Fairfax County. In the Town of Vienna, Mayor Linda J. Colbert prepared to greet riders on the W&OD Trail. "I love the collaboration between Vienna and Supervisor Walter Alcorn's office. The Vienna Bicycle Advisory Committee and I will welcome the riders with water and refreshments as they enter Vienna. I hope they will want to come back and enjoy more of our town," she said.
Alcorn and his wife Kristen chose the 15-mile tour route with a partial Metrorail option. They avoided 475 feet of climbing over six miles and experienced how to bring a bike on Metrorail.
Food, fun, and prizes awaited cyclists at Reston Community Center. "The Tour de Hunter Mill was a tour de force. Great job by Kelley Westenhoff [Reston Bike Club] and Supervisor Alcorn," said Roberta Gosling of Reston. "The route was well thought out, well-marked, and easy to follow. Best of all, we discovered many new routes and paths to and through Tyson's Corner," she said.