"Something about Lake Anne and music go together," said Reston resident and Lake Anne Jazz Festival co-coordinator Eve Thompson.
Saturday was the Sixth Annual Lake Anne Jazz Festival. Thompson along with Mykle Lyons, a Reston resident and founder of the Mykle Lyons Trio, started the festival out of love for music and for Lake Anne Plaza, said Thompson.
"Every year Mykle finds amazing talent. All the performers this year are local artists. A lot of people don't realize how much amazing talent we have around here," said Thompson.
"We believe this plaza is a special place. This is our own revitalization plan," continued Thompson referring to on-going Lake Anne Plaza revitalization discussions.
In addition to music, Eduardo Faubert of Jasmine Café was selling classic Oktoberfest fare: brats and hot dogs as well as craft beers and globally sourced wines. The festival is funded by proceeds from the craft market that is held at Lake Anne Plaza during the spring and summer and into the fall.
Jazz vocalist Sharon Clark kicked off the afternoon of music. Clark was the 2007 first place winner of the Billie Holiday Vocal Competition. Also in the line-up was the Jason Kearse Trio, Taylor Jones, Nia Olabesi, Ashley Danemann, the Mykle Lyons Trio and Leslie Summey. Jazz harpist Rashida Jolley was the headliner.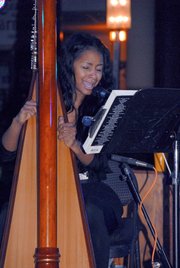 Jolley had just returned from an international tour with Lady Gaga. She had also recently appeared on "America's Got Talent" and was declared a fan favorite. During Saturday's performance she charmed the audience with stellar performances of pieces by Roberta Flack, John Coltrane and Alicia Keys as well as original material. Prior to playing one of her original pieces, "There's No One Else Like You," Jolley said that when she wrote the song she felt as though she were a vessel for her late father, Noble Jolley Sr., conveying his love for her mother.
Despite the great line-up, turn-out was sparse. Both Thompson and Lyons expressed disappointment with the crowd size. Thompson attributed the drop in attendance with the conflicting scheduling of the Reston Oktoberfest held at Town Center. "For six years we have always held our festival on the first Saturday in October. This year the organizers of the Oktoberfest moved up the date of their event," said Thompson.