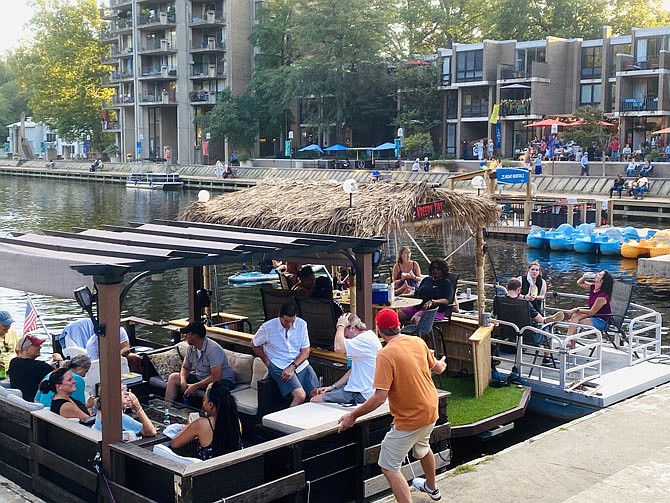 Reston — Lake Anne & Washington Plaza Merchants Association, in conjunction with Roxplosion and Kalypso's Sports Tavern, held the inaugural Mykle Lyons Food and Music Festival Saturday, Sept. 18, on historic Lake Anne Plaza.
By six o'clock that evening, people crowded the outdoor venues set up by restaurants. They filled seating to capacity, spilling over into wait lines surrounding the hostess stations. Houseboats lined the main dock, party-goers ready for dinner, drinks, and music. Paddleboarders approached the dock to land their SUPs.
"Many, many of Mykal's friends and colleagues came out last night to honor his memory," said Vicky Hadjikyriakou, co-owner of Kalypso's Sports Tavern. "As I was passing by [tables], I could hear them talking about their memories and so forth. It was a good night for people coming together and honoring Mykal and his musical artistry."
Unlike some other music events held on the plaza, no concert-style rows of seating had been placed in front of the musicians who performed on the steps leading to the Washington Plaza Baptist Church. Instead, the area remained open and clear, leading people to frequent the outdoor food and drink establishments. They settled in for an evening of remembrance and live music featuring the alternative soul of the Chris Timbers Band and slow blues and Chicago shuffle of Sam Gunderson & The Cactus Groove.
"The cultural impact of Reston ripples far beyond its bounds, and no more is this personified than by Reston's own Mykle Lyons. An accomplished musician and educator, a compassionate philosopher, and an honest soul, we celebrate him and honor his contribution to our community with this free music festival, in its 1st year, family-friendly event, and will feature acclaimed artists showcasing their talent and craft," said organizers in their news release.
Lyons performed nationally and internationally. Reportedly, he frequently performed for Vice President Al Gore. The 1992 and 1996 Presidential Inaugural Galas at the National Gallery of Art in Washington, D.C., showcased the Mykle Lyons' Quartet. Lyons' other notable venues included Carnegie Hall, NYC, Lincoln Center, NYC, Mount Fuji, Japan Jazz Festival, Lake Yamanaka, Montreux, Switzerland Jazz Festival, Lake Geneva, and Kennedy Center for the Performing Arts, Washington, D.C.
His recordings are "Premonition" -Three for All entitled, "The Looking Glass"- Rob Holmes, "Deaux-Oh!" - Acoustic Bass and Saxophone featuring Rob Holmes and "Heritage": featuring all original music and arrangements.