Alexandria — When Rebecca "Becky" Arnold was asked earlier this year what she loved most about her adopted hometown of Alexandria, she didn't hesitate.
"Where do I start?" she answered with her characteristic enthusiasm. "Saturday mornings at the Del Ray farmer's market, having ice cream at the Dairy Godmother, taking a ghost and graveyard tour in Old Town, attending the new exhibits at the Del Ray Artisans Workshop each month. Do you want me to go on?"
A passionate supporter of the arts and member of the Alexandria Democratic Committee, Arnold was diagnosed earlier this year with cancer and died suddenly Oct. 3 after a brief stay at the Halquist Memorial Hospice in Arlington.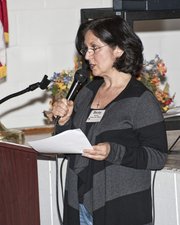 "Becky was a really special and genuine person," said former Alexandria Democratic Committee chair Clark Mercer. "She served as the communications officer for the ADC and was driven to serve by her sincere desire to improve the community in which she lived. But while Becky was a talented writer and produced many letters to the editor and newsletters, she was also involved in a wide range of activities, including leading teams to volunteer for Meals on Wheels or at community festivals, and was passionate about the environment and the arts."
A Virginia resident for 10 years, Arnold lived in Alexandria's Del Ray neighborhood and was entering her third year as a Realtor affiliated with Prudential PenFed Realty. She was named Prudential Rookie of the Year in 2010 and joined the Multi Million Sales Club in 2011. Prior to joining Prudential, Arnold was the advertising director for the Alexandria Times and was a buyer for Woodward & Lothrop and The Hecht Co. department stores.
A member of the Del Ray Civic Association, Arnold also volunteered her time as an ACT Alexandria Tutor, an advisor to the ALIVE! Housing Committee for Real Estate, and as a benefactor to ALIVE! House and Carpenter's Shelter. She joined the board of directors of Living Legends of Alexandria in January of 2012.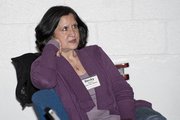 "There was a dynamic enthusiasm about her, a sparkle that I found energizing," said Living Legends founder Nina Tisara. "I loved working with her on the Living Legends portrait exhibition we did at Prudential PenFed last December. She was creative about the big picture and she followed through on the details to get things done well."
Arnold was an active advocate for animals as a member of the Humane Society of the United States Legislative Fund. Additionally, she spearheaded the creation of an art gallery at the Prudential office on North Washington Street to promote local artists. For her efforts, she was nominated for a 2012 Alex Award.
"Becky was always willing to lend a helping hand, to take on a project," Mercer said. "And she didn't need fanfare or to serve in elected office to do so. Becky simply cared about our community and worked hard every day to do what she could to improve it."
Arnold is survived by her son Brian Arnold, a teacher in the Baltimore City Public Schools, her mother Bertha Vito of New Carrolton, Md., her sister Carmela Vito Smith of Annapolis, and brother Michael Vito of Vienna. A Mass of Christian Burial was held Oct. 8 at Blessed Sacrament Catholic Church where Liz Cline remembered her longtime friend.
"Becky was passionate about her role as a mother and said that the worst thing about dying is knowing that she would not be there any more for Brian," Cline said. "But there is comfort in knowing that if there is a two-party system in heaven, you can be sure Becky is there ready to fight the good fight."
In lieu of flowers, expressions of sympathy may be made to Best Friends Animal Society at www.bestfriends.org.