The residential real estate market is up 26.8 percent in McLean and Great Falls in terms of total number of sales. This represents a significant increase for the first three quarters of 2012 over the same time period for 2011.
Delving deeper into the data reveals that the lower bracket market segment, which is considered to be those homes below $1.25 million in this market area, has had very little change year over year in terms of number of sales. What is significant about this market segment in McLean and Great Falls is that there is very little available to buy. With the current absorption of homes, there is about a two to three month supply of inventory. A balanced market is considered a six month supply of inventory, so this clearly indicates that in McLean and Great Falls for the under-$1.25 million price range it is a great time to be a seller. Good homes priced correctly for the current market are selling quickly and in some cases with multiple offers.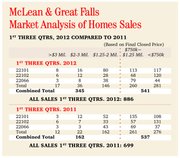 The upper bracket market segment considered to be $1.25 million in the McLean and Great Falls area also saw improvement in terms of number of transactions. To date in 2012, there were 345 total upper bracket sales and in 2011 in the same time period there were only 162. That represents an over 100 percent increase in number of sales, which is very good news indeed! The distinction with the upper bracket market is there is still substantial inventory available for purchase, currently equating to an over two year total supply. Even though this segment is still not at a balanced market, it is most definitely moving in the right direction.
More Information
Karen Briscoe and Lizzy Conroy are active and experienced Realtors® in the Northern Virginia, Washington, D.C. marketplace. The Huckaby Briscoe Group was recognized in September 2011 as one of the Wall Street Journal Top Real Estate Teams in the United States. Contact: www.HBCRealtyGrou..., 703-734-0192, Homes@HBCRealtyGr....
The typical interim is seven years between market cycles from peak to peak. The Northern Virginia area saw real estate values peak in 2005-2006. Therefore, my prediction for this area is that values will return to market peak in some segments beginning in 2012. To date the numbers for 2012, should they sustain through the last quarter, indicate that we are on the road to that occurring.