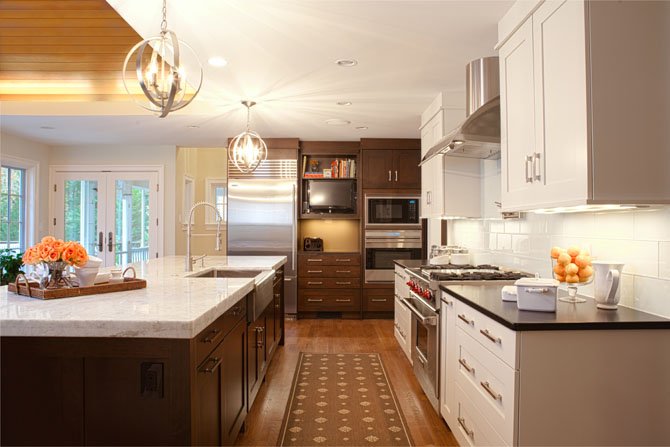 Potomac — When remodeling a kitchen, choosing finishes such as countertop materials and paint colors can be daunting for some. Design experts say there are a few guidelines that can simplify the process.
"It is most important to start with your idea of the overall look of the kitchen," said Lea Allen, of Hopkins and Porter a residential architecture design and build firm based in Potomac. "It doesn't have to be specific, just an overall look. For example, bright and sunny, dark and calm, modern or traditional, those kinds of generalities."
The style that one is trying to achieve can guide the material selection. "Some people will decide on materials by going to a stone yard, looking at slabs and falling in love with one. That is one way to choose," said Allen. "But if you have a look in mind – say a white kitchen – look at all the options for white counter tops rather than overwhelming yourself with hundreds of different kinds of counter top materials. That will help you narrow down the options."
When Nadia N. Subaran of Aidan Design began remodeling the kitchen of a Potomac home recently, she kept an image in mind. "In this particular kitchen, we wanted something that had a little bit more of a masculine feel as part of the design aesthetic," she said.
Thinking about how the kitchen will be used can help direct the process of selecting cabinetry, countertops, and flooring. Durability was a key consideration for Subaran. "The client loved the look of marble, but she's got four kids, they entertain a ton and they cook a lot. They just didn't want to have to deal with the maintenance of marble," said Subaran.
Subaran suggested quartzite. "It is a natural stone that is not to be confused with quartz," said the designer. "Quartzite does not require a lot of maintenance and has the look of marble, but the hardness and durability of granite."
For the cabinetry, Subaran used mixed finishes. "We did a mix of painted white cabinets paired with a very dark stain on cherry," she said. "I think what people like about that look is that it helps to break the kitchen up a little bit."
"In this particular kitchen, we wanted something that had a little bit more of a masculine feel." — Nadia N. Subaran of Aidan Design
Other designers say this trend is popular now. "What we're seeing right now is everyone asking for white kitchens again. Everyone wants a white backsplash because they offer a very neutral palette. What is also very popular are dark kitchens with espresso or black-brown color," said David Doughton of the Kitchen and Bath Factory in Arlington, Va.
Allen added, "The major character defining elements in a kitchen are the cabinets, countertops and flooring. You can say, 'I want this simple cabinet' or 'I want this ornate cabinet' and that sets the tone of what the cabinets do for the room."
Knobs and pulls can tie together the look of a kitchen, say designers. "One trend that we're seeing is the [use of] pulls instead of knobs on cabinets and drawers. They give a sleek professional style for the kitchen," said Subaran.
Whenever the decision making process becomes overwhelming, Allen suggests returning one's original style goal. "When you set the overall look, it is much easier to make decisions. You can ask yourself, 'Will this knob take me to that look?'"