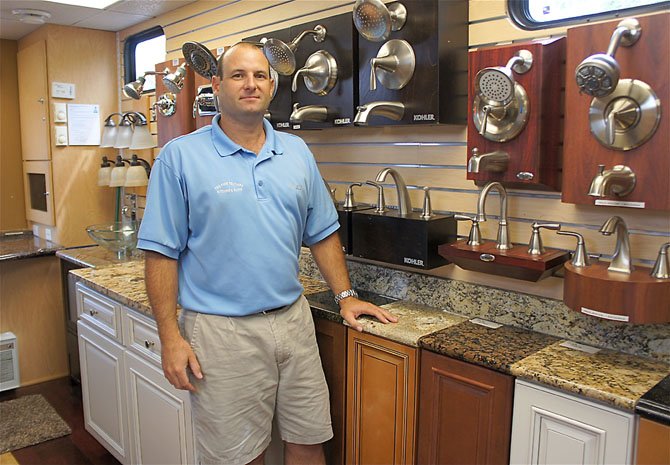 On a sunny afternoon in the parking lot of a Fairfax County shopping center, Jeff Pregman is giving a tour of his mobile showroom, a $100,000 former bookmobile that now houses an impressive selection of tiles, counter tops, faucets, flooring, light fixtures and more. Pregman is the General Manager of Two Poor Teachers, a Class A contracting company founded in 1999 that specializes in kitchen and bath remodeling. The tour is interrupted on several occasions over the course of an hour by folks peering in the windows or knocking on the door. "I love it," says Pregman. "People see this big vehicle that says it's a design center. They come up to see what's what and they are blown away by what's inside. We do get a bit of business this way." Judging by the way the curious visitors walked away with business cards and even a scheduled appointment, Pregman isn't kidding.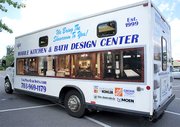 THE COMPANY is the vision of Ken Nies and Tom Pennell, both of whom were Fairfax County teachers when they collaborated to start what was originally a sideline business. As their vision grew, Nies retired from teaching to serve as the hands-on owner, while Pennell still teaches and works with the company part time. Pregman came into the company first as a satisfied customer. "I was a government contractor," he said. "Ken and his crew did my bathroom remodel. We got on, needless to say, and two years later Ken recruited me to run the operation. It was a bit of a leap, but basically a no-brainer to go in with a quality outfit like this."
So, how has business been going, especially in these tougher economic times? "Pretty good," Pregman happily declares. "2011 was our best revenue year." Pregman attributes the success of Two Poor Teachers to a number of factors, not the least of which is a fanatical commitment to start and stop dates. "People and Process," Pregman firmly states. "We have a loyal, well-trained crew. Most have been with us for years, some from the beginning. They know what they are doing and we are all on the same page. No subcontractors. We can control the quality of our work. Add in the 'process' that the company has developed over the years, and we can schedule properly and start when we say we will and be finished when we said we would."
The addition of the mobile show room in 2011 has taken things to a new level for the Two Poor Teachers gang. "As you can see," says Pregman, "it's obviously great advertising, especially when strategically parked in places like this. But what really excites people is that for many of the jobs, we bring a one-stop-shop right to their front door." The Mobile Design Center carries many of the most popular selections of brand name items--products that the contractors know they can get quickly and in appropriate amounts to do the job right, within budget, and on schedule. Perhaps the biggest benefit to the potential client is having this treasure chest of design possibilities right there to mix and match with what's already in place. And no running from store to store, choosing, rejecting, returning, picking something else and starting the process all over again.
Serving Fairfax, Loudoun, and Prince William counties, Arlington and Alexandria, Two Poor Teachers handles about 350 bathroom jobs, more than 20 kitchens, and 10-15 basements per year. Pregman says a kitchen can be designed and priced in about two hours. "Most kitchen jobs are completed in two weeks, bathrooms within one week," according to Pregman. "When the work gets started, I love when the client is home," he said. "A partnership between the customer and the company makes things go smoothly. It certainly helps avoid the dreaded 'change order' and the extra charges that come with them. I know companies that say that that is where they make their money. That is just not our philosophy. Do the best job. Keep to the budget. I'm pretty sure that's why we get about 60-70 percent of our business through referrals."
TWO POOR TEACHERS' PLANS for the future include another mobile showroom and a larger physical display place, as well. If you are looking for a free quote and design advice for a home improvement project, contact them at 703-969-1179, or at their website twopoorteachers.com. And if you see the showroom on wheels, don't be shy. Pregman says you're welcome. "Come on in and have a look."