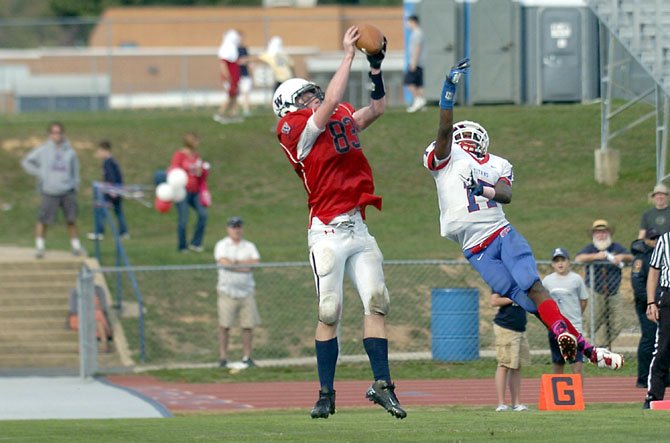 Fairfax — Andrew Mackay doesn't know why, but for some reason the Woodson quarterback finds difficulty in completing a relatively easy pass to a receiver running a corner route.
On Oct. 6, the Woodson football team faced second-and-goal at the T.C. Williams 5-yard line midway through the fourth quarter. The Cavaliers led by a touchdown and were in search of some insurance toward earning their first victory of the season. Woodson coaches called for a play where tight end Peter Murray ran to the corner of the end zone and another receiver ran out into the flat.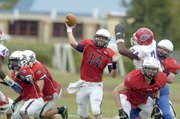 "That play, we try to run a lot because it's such a good play, and for some reason for me it's a tough throw," Mackay said. "I don't know why. It should be easy; I've made those throws over and over again in practice."
With a chance to snap a five-game losing streak, Mackay connected with Murray for a touchdown, which proved to be the difference in the game as the Cavaliers defeated the Titans, 28-21, during Woodson High School's 50th anniversary homecoming game.
"[For] Peter, [who is also] a basketball player," Mackay said, "just toss it up there and he'll go up there and get it like a rebound."
Murray's first touchdown of the season secured Woodson's first victory of the 2012 campaign. After three lopsided losses, the Cavaliers had dropped their previous two games by a combined seven points. Instead of falling short in another close contest, Woodson made the plays it needed to earn a W in front of the home crowd.
"It feels great," Murray said. "We've been working hard. The last two weeks, [we lost by a combined seven points]. It's been tough, the last minute or two [our opponents] scored. We fought the entire game. After our first three games we've come together as a team, really. I think we're just as good as anyone else right now. We're rolling now and I'm looking forward to the next four games. …
"[It was my] first touchdown of the year. I've been waiting for it. When I saw that ball in the air it was a great feeling. I knew I was going to go get it and I did and I was so happy."
The 28 points were a season-high for Woodson, which also defeated T.C. Williams after a 0-5 start in 2011. Running back Napoleon Augustin carried 23 times for 146 yards and two touchdowns. Joe Carter rushed six times for 72 yards. Mackay completed 5 of 10 passes for 83 yards and a touchdown, and also ran for a score.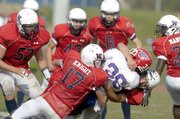 Woodson's wing-T offense produced 343 yards, including 260 on the ground.
"A lot of people made a lot of plays," second-year Woodson head coach Joe Dishun said. "We're not a team with a lot of superstars. We've got a lot of guys that are just football players."
The game started in inauspicious fashion for Woodson. TC drove down the field on the game's opening possession and faced first-and-10 at the Cavaliers 18 when quarterback Alec Grosser threw into the end zone and was intercepted by Woodson defensive back Raymond Maneno. Unfortunately for Woodson, Maneno fumbled during the return and TC receiver Landon Moss scooped up the loose ball and ran 11 yards for a Titan touchdown.
Woodson answered with a 4-yard touchdown run by Mackay on its ensuing possession, but TC came right back and scored on its next possession, when running back Dealo Robertson reached the end zone from 2 yards with 4:09 remaining in the first quarter.
At that point, however, the Woodson defense tightened up and did not allow a point until Grosser connected with sophomore Terry Jordan for a 17-yard touchdown pass with 2:04 remaining in the fourth quarter, cutting the Cavaliers lead to 28-21.
"The big thing is making sure these kids understood that we believed in their potential."

--- Woodson football coach Joe Dishun
After losing to Chantilly, Madison and Oakton by a combined score of 115-20, Woodson suffered a 10-7 loss to Lee on Sept. 21 and a 14-10 defeat against West Springfield on Sept. 28. This time, the Cavaliers found a way to win.
"The big thing is making sure these kids understood that we believed in their potential," Dishun said. "We had confidence in them and belief in how they've improved and how they've been playing and how they've been competing, [and] if they just kept at it, it was going to happen. To work through those setbacks and keep together the way they have, I'm just extremely proud of them."
While Woodson celebrated homecoming with a victory and improved to 1-2 in the Patriot District, T.C. Williams suffered its fifth consecutive loss after defeating Wakefield, 73-0, in the season opener on Aug. 30. The Titans fell to 0-3 in the district.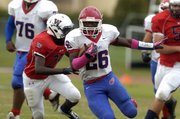 Robertson fractured a rib against South County on Sept. 22 and missed the Lake Braddock game, but returned to action against Woodson. The senior said he felt pain every time he was hit, but still managed to carry the ball 25 times for 176 yards and a touchdown. He also caught two passes for 12 yards.
Robertson had 114 yards on the ground at halftime.
"We didn't get back to [running the ball] in the second half aggressively," Robertson said. "We took our foot off the gas. … We came out here thinking that [the Cavaliers] were going to lay down on their homecoming and their 50th anniversary. We thought this was going to be our first step back in the right direction."
Grosser completed 21 of 37 passes for 158 yards and a touchdown. Moss had six receptions for 50 yards.
Linebacker Malik Carney led the TC defense with 16 tackles. Defensive backs Rashawn Jackson and Tyrice Henry had 12 and 10 tackles, respectively. Kyreem Walton had two sacks and Carney had one. Henry and Jackson each recovered a Woodson fumble.
"Our confidence has gone up progressively throughout the season," Mackay said. "We know that we can play like this every game, so this just proves it. It just shows that if we set our minds to it and execute the things we know how to do, we can beat anybody."
T.C. Williams will host West Springfield at 1 p.m. on Saturday, Oct. 13.
"You've got to come into the games with high hopes, but when we're out here, we're taking our foot off the gas, thinking that we can just win," Robertson said. "You can't win like that."