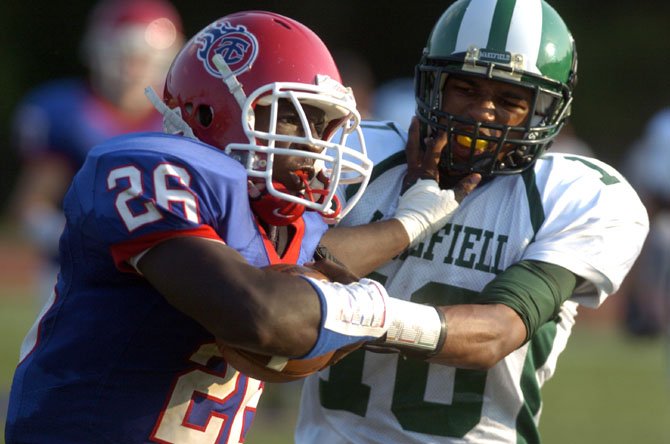 Alexandria — During each of the next four weeks, the T.C. Williams football team will face opponents that made the 2011 playoffs. While taking on Westfield, Robinson, South County and Lake Braddock will present TC a chance to show whether it belongs among the best teams in the region, the only thing in question during the Titans' season opener was when they would stop scoring.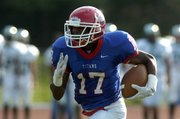 TC defeated Wakefield, 73-0, on Aug. 30 at Parker-Gray Stadium. The Titans reached 73 points with less than two minutes remaining in the third quarter against a Wakefield team that finished 1-9 each of the last three seasons and hasn't had a winning record since 1983. TC reached the end zone on the ground, through the air, on defense and on special teams. The Titans also scored a safety when a Wakefield punt snap went through the end zone.
Last year, TC defeated Wakefield, 51-7, in the season opener but went on to lose its next five games. After Thursday's game, TC running back Dealo Robertson said the Titans kept the win in perspective.
"It's a stay-humble type of game," he said. "Our team was motivated; we put up 73 points, but big picture we're thinking about Westfield next week."
Robertson had a big day against the Wakefield defense, rushing for 114 yards and two touchdowns in just nine carries. He also caught one pass for 15 yards.
Quarterback Alec Grosser completed 6 of 8 passes for 114 yards, including touchdown passes to Timmy Rattanaphone and Landon Moss. Quanterius Wright, Isaiah Clarke and Darius Holland each scored a rushing touchdown.
"It's a stay-humble type of game. Our team was motivated; we put up 73 points, but big picture we're thinking about Westfield next week."

— T.C. Williams running back Dealo Robertson
Defensive back Tyrice Henry showed off his playmaking skills, as well. After the bad punt snap for a safety, Henry returned the ensuing free kick 60 yards for a touchdown, giving TC a 16-0 lead in the first quarter. In the second quarter, Henry returned an interception about 40 yards for a touchdown, extending the Titans' lead to 38-0.
"I saw the quarterback role out, and then I saw the wide receiver, and as a safety, I think pass first," Henry said. "So I kept dropping back and it came to me."
TC will host Westfield at 3 p.m. on Saturday, Sept. 8. Westfield is ranked No. 11 in the latest edition of the Washington Post's top 20. The Bulldogs are the highest-ranked Division 6 team from the Northern Region.
TC Girls Catch Passes
With the TC leading 73-0 in the fourth quarter, junior receiver Tiffany Person entered the game and caught a pass. Person, who has played football since the age of 8, said she was nervous about getting in a varsity game. Listed at 5 feet 7 and 130 pounds, Person said she worried about dropping the pass or fumbling, but once she hauled in the reception, she started thinking about getting up field.
"I was very happy about my first time getting in," Person said. "I was happy [the coaches trusted] me to throw the ball to me."
Later, receiver Antonella Arias entered the game and caught a pass for the Titans.
"I was ready to go over there and catch the ball," said Arias, a rugby player in her first season playing football. "… [The Wakefield defenders] got on top of me and it didn't hurt because I was like, 'I got this.'"