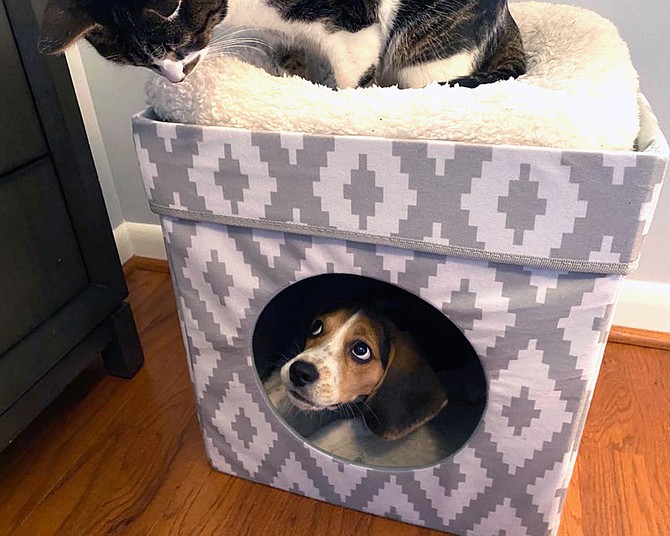 Deciding to get a dog was easy. It was agreeing on a breed that required some delicate negotiation and ultimately a compromise for David and Annie Hovsepian.

David was team Boston terrier, the breed of his childhood pets. Annie, on the other hand, pictured a dog with floppy ears and an expressive tail and was team golden retriever. Their cat, Gordo, was not consulted.
After settling on a beagle, they set out to find their new puppy at a time when local shelters and rescue organizations have limited inventory. Ultimately they located sweet Hogan through Lost Dog and Cat Rescue Foundation.
Life is different now that David and Annie have a dog. Despite living in the same building for about three years, they hadn't learned the names of any of their neighbors. Arguably, they still haven't. But now neighbors are known by their dog's names, "Alfie's dad' and "Maggie's mom" and there are daily exchanges among fellow dog owners.

Hogan is all beagle; affectionate, friendly, stubborn, sometimes loud and very nosy. His antics keep David and Annie on their toes. Apparently he recently wandered over to a group of picnickers enjoying the beautiful weather. In an instant, he nose dived into a woman's handbag, coming up with the prize of a Jimmy John's sandwich. Thankfully, the sandwich's owner was so taken with Hogan that she was happy to share her lunch.
In case you were wondering how Gordo feels about the young interloper, he's not really a fan. But the rest of us delight in seeing those floppy ears and happily wagging tail on the sidewalks of Clarendon.
If you would like to keep up with the adorable Hogan, you can follow him on instagram @beagle.hogan
Joan is an award-winning Connection Newspapers columnist and local photographer specializing in pets, children and families and contemporary business portraits.
ArPets is a weekly feature for highlighting the well-loved pets of Arlington as well as animals who are available for adoption. If you or your dog, cat, iguana, bunny or any other pet, has an interesting pet story to tell, email me at joan@joanbradyphotography.com