Photo Gallery
Springfield Vets host Tenn Vets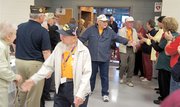 Click Photo for Flash
"This is such a pleasure and a privilege." That was how Linda Bond, president of the Ladies Auxiliary of the Veterans of Foreign Wars (VFW) Post 7327, described the event taking place in the Greater Springfield Volunteer Fire Department's Bingo Hall on Saturday, Oct. 16. Bond made the comment as she stepped into the receiving line to greet two dozen veterans returning from a busy day touring the monuments and memorials of the district, courtesy of the Northeast Tennessee Chapter of Honor Flight Network. The national non-profit organization got its start in 2005 when retired Air Force Captain Earl Morse was looking for a way to honor the veterans he had cared for during his service and continued to attend as a physician assistant at a Department of Veteran's Affairs clinic in Springfield, Ohio. The World War II memorial had recently opened in the nation's capital and conversation between Morse and his patients led him to realize how many of them really wanted to see "their" memorial, but feared they never would. Financial constraints and medical issues were the chief barriers to the achievement of the veterans' dreams.
A LOT OF NETWORKING, personal sacrifice, generous donations of time, money, and even airplanes and pilots saw the first Honor Flights take off for Washington, D.C. In their first year, 137 veterans made the trip. Today there are 117 Honor Flight hubs in 40 states making it possible for these American heroes to see their memorial, take in the sites, and be honored for their service—all at absolutely no cost to the service person. World War II vets, and veterans of other conflicts who have terminal illnesses receive top priority, in the otherwise first-come-first-served application process. As those honorees are lost to us, the focus will shift to veterans of Korea and Vietnam.
Gary Kelch is the Commander of VFW Post 7327. Kelch answered the call to host this particular unit of honorees from Tennessee, marshalling his volunteer troops just as if he was back on the submarines he served on for 26 years. "Our job is simple compared to what the Honor Flight people do. Edie Lowry (president of the Northeast Tennessee Home Flight Network Hub) made the arrangements. Got everyone here, handled all their transportation, the tours, the accommodations, everything. All we have done is prepare a reception last night, and now tonight's dinner," said Kelch. "It's our first time to be involved in this incredible event. Hopefully not our last. We wanted to do our best and really say 'thank you' to these wonderful folks." The commander praised Linda Bond and the Post's Ladies Auxiliary, gesturing to the line of women manning the buffet tables and added a particular note of gratitude to JW & Friends Restaurant on Backlick Road in Springfield. "They don't cater," said Kelch, "but when we told them about this dinner for our veterans, they offered to do it, and do it at cost."
As the honored guests and their guardians enjoyed their dinner, some talked about the experiences of the day. "The last time I was in Washington, D.C. was in 1944. I was 17 years old, getting ready to do my duty and serve my country. Things have changed a bit around here since then. It was a great day, but I sure am glad to take a seat," said Marvin Conquest, a Navy veteran. Lonnie Laws served in the Pacific from 1943-1946 aboard the USS West Virginia. The Lincoln Memorial was his favorite stop of the day.
AS A MARINE who fought at Iwo Jima, Leighton Andrews was particularly moved by the Marine Corps Memorial. A few of the veterans quietly admitted to being somewhat overcome by the emotions and memories that the memorials and the Arlington National Cemetery recalled. Terry Smith also served in the Pacific and was a bit hesitant about making the trip. "It did revive some of those memories," he said. "Yes, things we just don't much talk about," was how Al Horn, Jr., a World War II army veteran who served in Belgium and France described it.
Luckily, the warm welcome from their VFW hosts, good food, great company, and a rousing show by "Elvis" and "Marilyn," helped the veterans create new and happy memories to make those more painful remembrances a little easier to carry. Mission accomplished for this operation by Honor Flight Network and the Springfield VFW Post 7327.