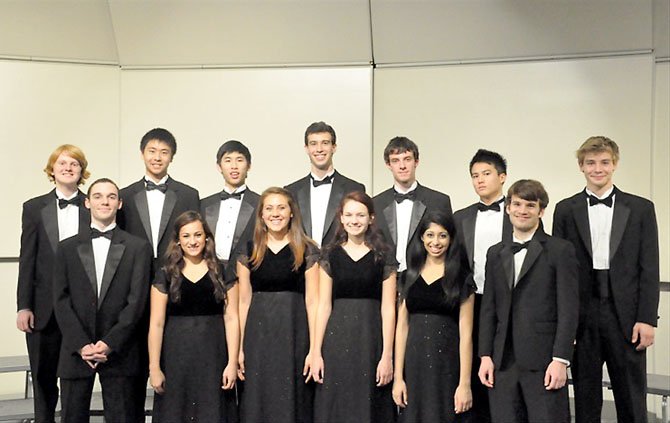 The 2012 VMEA (Virginia Music Educators Association) Honors Choir will feature 13 Langley High School seniors out of the 131 senior choral students selected from the entire state of Virginia. The seniors were selected during a rigorous audition process held Saturday, Oct. 13 at Longwood College. For the third time in the last four years, Langley High School had the highest number of students selected of any high school in the state.
These top performers include: Kushali Marwaha, Amelia Welch, Beth Richardson and Emily Gurian singing Alto 2; Brian Niu (1st Place), Alfred Lam (3rd Place) and Craig McKenzie singing Tenor 2; John Higgins, Grant Brown, Ben Yang and Andrew Jones singing Bass 1; and Jesse Levin (1st Place) and Sam Mayman singing Bass 2.
The students will travel to Hot Springs, Va. from Nov. 15-17 to participate in rehearsals for the Honors Choir that culminate in a concert at the VMEA In-Service Conference Event at the Homestead.