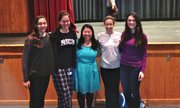 "All of the shows were amazing. It's such a large spectrum of talent, but really it's about all of us coming from different schools and being together for theater."
— Rachel Mayman, Langley High School Senior
Langley High School theater students' months of hard work paid off on Saturday, Feb. 8, when they placed third in the 2014 VHSL 6A North Region One Act Play Festival at Lake Braddock Secondary School. Langley won the Conference 6 championship on Jan. 25, securing the school's first ever appearance in the regional competition, along with runner-up Washington-Lee High School from Arlington.

The 16-person cast performed "Fearful Symmetry," a one-act play written by Alan Haehnel about a young girl named Mary who is presented with a box that will allow her to escape poverty, but will kill a stranger somewhere around the world if she presses the button. The play takes place in four different countries, with four different Marys all struggling with the opportunity for wealth in exchange for taking a stranger's life.

Seniors Madeleine Chalk, Rachel Mayman, Kathleen Welch and freshman Jamie Goodson played the lead roles of Mary, directed by senior Jamie Joeyen-Waldorf. All five members received honorable mentions from the judges in the regional competition, with Welch also receiving a nomination for Outstanding Female Performance.
"This year's theater department had a lot of strong females, and the play lent itself to star female characters," said Joeyen-Waldorf. "I just knew that our department would do very well with it. It's a unique piece that's not done very often at competitions."
Returning champion West Springfield High School placed first and Chantilly High School took second in the regional competition. Top honors for Outstanding Male Performance and Outstanding Female Performance went to Austin Morrison (West Springfield High School) and Brooke Johnson (Chantilly High School).

Eight schools competed, with five of them performing plays directed by students. Saxon Stage parent Susan Mayman noted that was an unusually high number — showing the strength of the theater talent in Northern Virginia high schools.

At the end of the competition, judges provided detailed feedback to all eight of the schools, praising them for their strengths and suggesting areas of improvement. They praised Saxon Stage for their "wonderful ensemble work" and "fantastic use of silhouettes, miming and symmetry."
"It's great to see that high school theater is alive and well in Northern Virginia," said judge Carolyn Agan.
"All of the shows were amazing. It's such a large spectrum of talent, but really it's about all of us coming from different schools and being together for theater," said senior Rachel Mayman, who played the Russian version of Mary.
"I'm very excited they got recognized for their hard work," said Langley Theater department director Valerie Karasek. "When you have kids with this caliber of talent all you've got to do is bring your passion, provide opportunities, give a little bit of guidance and leadership, and the rest takes care of itself."